75th Hunger Games arena
Talk

2
390pages on
this wiki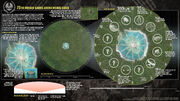 The 75th Hunger Games arena was circular in shape and divided into 12 sections, each section representing an hour on a clock, then a small circular-shaped sea, and at the final bordering circle was a jungle.
The 75th Hunger Games arena was set up as a clock. The 12 to 1 wedge consisted of the tree that would periodically be struck by lightning during the 12th hour, which proved to be a very important factor later on in the novel. The other sections of the 'clock' were made up of different horrors that would be unleashed by the hour. The 'horrors' consisted of an acid fog, blood rain, an unknown beast, a tidal wave, carnivorous monkeys, Jabberjays, an unknown species of insects that emit loud clicking noises, and more which are not mentioned.
This arena was very small, and circular in shape, which tips Wiress off to the set-up of the clock mechanism. A powerful force-field surrounded it, and the Cornucopia lied in the middle of the arena, its tail pointing in the direction of the 12th hour, and it was surrounded by water and spokes that held the tributes as they were launched into the arena. The only thing that the Cornucopia contained was weapons, for a bloody bloodbath. The trees contained in the arena were full of the only water that can be consumed safely (due to the salt in the lake), and which have to be extracted by a spile, or by hacking at the bark.
The arena also has unidentified creatures, possibly mutts made by the Gamemakers roaming around.