Cashmere
Talk

1
422pages on
this wiki
"I'm sorry. I just can't stop crying."
―Cashmere during the victor interviews
Cashmere was the female tribute from District 1 who participated in the 75th Hunger Games and was the victor of the 64th Hunger Games. Her brother Gloss won the previous games, the 63rd Hunger Games
Biography
Edit
A victor of the 64th Hunger Games, Cashmere was reaped along with her brother Gloss for the third Quarter Quell. She and Gloss both won the Hunger Games in consecutive years when Katniss was younger. She spent some time with Katniss during training, and it is implied that she and her brother were friends with the other tributes.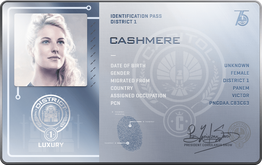 75th Hunger Games
Edit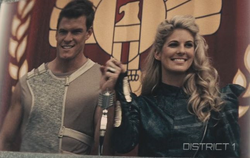 In Catching Fire, Cashmere is first seen at the Reaping in District 1, where she and her brother, Gloss, are reaped to compete again. They both smile proudly and hold hands. Cashmere wore a black jacket with silver cuffs and skinny orange and tan leopard-print pants.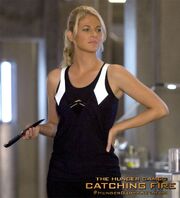 Cashmere trained with her brother at the throwing knives station, where they together eliminated two targets, with only one throw. Katniss said she received a very high score after her private session with the Gamemakers.
Interview
Edit
During Cashmere's interview with Caesar Flickerman, she makes a speech about how she cannot stop crying when she thinks about how the residents of the Capitol must be suffering with the thought of the loss of 23 victors. This is her way to show how betrayed the victors feel about going back to the arena. Before the interview, she told Katniss that she looks ridiculous in her wedding dress. She wore a short sequined silver and pink dress. After Peeta's interview, she then joined hands with the other victors to show their unity against Capitol. 
During the Games
Edit
She proved to be a real threat along with her brother, Enobaria, and Brutus. She stood on the pedestal by Katniss, in the film. She and the other three Careers in their alliance took to the Cornucopia shortly after Finnick, Mags, Katniss and Peeta make their leave. She  managed to kill off two of the other tributes, which included Seeder and the female from District 9. The Careers then retreated to the jungle to re-group. 
On Day 2 of the Games, the Careers managed to sneak up on Katniss, Finnick, Peeta, Beetee, Johanna, and Wiress who were strategizing at the Cornucopia. Gloss managed to slit Wiress' throat, causing Katniss and Johanna to attack, Johanna buries an axe into Cashmere's chest, killing her shortly after Katniss killed Gloss. In the film, her dead body is thrust into the water as the Cornucopia spins. She was placed 10th out of 24.
MockingjayEdit
In Mockingjay, Cashmere was implied to have been used by President Snow, as she was mentioned along with Finnick and Johanna as victims of prostitution. 
Due to the fact that Cashmere was a Career Tribute, it is likely she killed many tributes during her original Hunger Games. She killed Seeder and the female from District 9 during the third Quarter Quell.
"There's the classically beautiful brother and sister from District 1 who were victors two consecutive years when I was little."
―Katniss on Gloss and Cashmere.
Cashmere's brother, Gloss, was also a tribute in the
75th Hunger Games
, as well as a victor from an earlier year. They were known to have a strong relationship, although Cashmere seemed to have control over Gloss, and they fought side by side until the very end. No other family is mentioned.
Physical description
Edit
Cashmere and her brother Gloss were both described as being classically beautiful. She was noted to have long blonde hair, cascading in curls. It is probable that she and Gloss were physically stronger than most of the other victors, being relatively young and from District 1. It should be noted that it is implied that Cashmere was a victim of prostitution by President Snow, alluding to her physical attractiveness.
It is implied that Cashmere shared a resemblance to another District 1 tribute, Glimmer, with her green eyes and flowing blonde curls, though this may be because in District 1 this is fairly common.
Portrayal
Edit
Stephanie Leigh Schlund portrayed Cashmere in The Hunger Games: Catching Fire. In the film she is killed when the Career pack attacks Katniss and the others and Johanna throws the axe in her chest.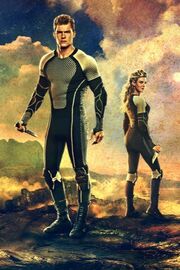 It is possible that Cashmere and Gloss were the mentors to Glimmer and Marvel from the 74th Hunger Games.
Cashmere and Gloss are thought by Katniss to most likely be in their 20's because their consecutive Games happened when Katniss was a child, meaning the oldest they could be is 30.
Cashmere and Gloss are the only known brother and sister who have won the Hunger Games.
Cashmere was the only District 1 tribute from the 74th & 75th Hunger Games not to be killed by Katniss, as Cashmere was killed by Johanna.
She and Glimmer share hair and eye color, due to the fact that most people from District 1 have blonde hair and green eyes.