Ad blocker interference detected!
Wikia is a free-to-use site that makes money from advertising. We have a modified experience for viewers using ad blockers

Wikia is not accessible if you've made further modifications. Remove the custom ad blocker rule(s) and the page will load as expected.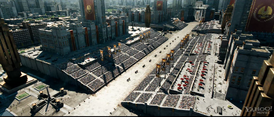 When entering the Training Center, tributes were required to enter via chariot rides that would show the audience what to expect from the competitors of each district. The chariots would be decorated according to which district they belonged to and their district's industry. Most of the time the audience would cheer for the chariots they liked and do nothing for the ones they did not like. The chariot rides were very important because it was a chance for the tributes to make an impression on the citizens of the Capitol and potential sponsors. Most tributes, to make a good imression or the audience like them, would smile and wave and appear friendly. This is also the first time the Capitol gets to see the tributes, so a good impression is very important in order for them to receive sponsors.
For each Hunger Games, it is required that the districts enter in numerical order, starting with District 1 and finishing with District 12.
The event is also referred to as the "Tribute Parade."
The 74th Hunger Games
District 1 - Luxury
The District 1 tributes, Glimmer and Marvel, had glitter sprayed all over their outfits, were spray painted silver, and were carried by white horses.
In the film, the District 1 tributes wore pink outfits. Glimmer wore a large, pink feather headdress and a long dress with a pink feather cape. She also had feathery shoulder treatment. Marvel wore a shiny tunic which also had a pink feather cape.
District 2 - Masonry
The District 2 tributes, Cato and Clove, wore gold gladiator-style costumes in the film.
District 3 - Technology
The tributes from District 3 wore shiny costumes with headdresses that mimicked the complex innerworkings of electronics.
District 4 - Fishing
The District 4 tributes wore blue gowns that represented waves with starfish pins on their shoulders and pearls in their hair.
District 5 - Power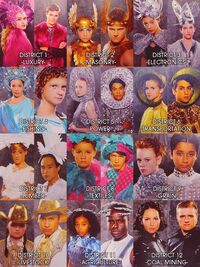 The
District 5
tributes, 
Foxface
and her
District partner
, wore shiny and flashy silver costumes that represented their District's main export, power and electricity.
District 6 - Transportation
The District 6 tributes were dressed in a costume that resembled a moon. They had a crescent moon-shaped head piece that curved around their face.
District 7 - Lumber
The District 7 tributes wore body suits of paper and headdresses of paper fans, although it is mentioned by Johanna Mason in the book that they would always be dressed as trees.
District 8 - Textiles
The District 8 tributes wore costumes of various blue and pink fabrics possibly inspired by the fabric laden outfits that medieval jesters wore.
District 9 - Grain
The tributes from District 9 wore body suits with rows of silver and gold to represent fields of grain, and they wore silver half circles behind their head.
District 10 - Livestock
The tributes from District 10 wore gold and white cowboy-themed costumes.
District 11 - Agriculture
Rue and Thresh from District 11 were dressed in farmer-like costumes, with silver branches as their headpiece.
District 12 - Mining
Katniss Everdeen and Peeta Mellark from District 12 made an impression by wearing black unitards, flaming capes that looked like wings and flaming headdresses, much like burning coal. This was how Katniss got her nickname, 'the Girl on Fire'.
The 75th Hunger Games
For the 75th Hunger Games, a lot of the other stylists took note of Katniss and Peeta's entrance last year, and did the same for their district's tributes. The notable outfits worn were:
District 2 - Masonry
Brutus and Enobaria wore gladiator-like outfits, as stated by Trish Summerville in the official movie companion.
District 3 - Technology
Beetee and Wiress wore electric bulb studded outfits.
District 4 - Fishing
Finnick Odair of District 4 wore only a fish net, draped over his torso and strategically knotted to conceal his groin.
In the film, he is shirtless and wears a kilt of golden fish pelts.
He was always admired for his beauty in the Capitol and his stylist clearly wanted to make him appear desirable and handsome.
District 6 - Transportation
The Morphlings wore dark and gothic clothing with light patterns to represent their addiction to morphling, as stated by Trish Summerville in the official movie companion.
District 7 - Lumber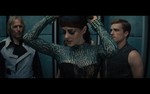 District 7's Johanna Mason was dressed as a tree, though she removed the outfit after the chariot ride and continued wearing only slippers that night until the elevator stopped on her floor.
In the film, she was still a tree, but instead of wearing a leafy headdress of branches, she wears a headdress of leaves, a green bodysuit, a leather corset, and spiked bracelets. Blight was dressed in a green bodysuit with a leather vest.
District 8 - Textiles
The tributes of District 8 carry outfits of opposite colors: black and white. Cecelia seems to wear a long black dress with broad sons on the handles. Whereas Woof is dressed in beige trousers clearly and of a wide gray shirt with sons attached to its shoulders which hang.
District 9 - Grain
The tributes from District 9 were dressed as loaves of bread.
In the film, they are seen to be dressed in gold outfits that represent the golden fields of grain.
District 10 - Livestock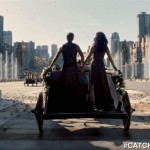 The tributes of District 10 wore cow outfits with flaming belts, an ensemble which greatly bemused Katniss. She also thought that it was an attempt by the stylists to copy Cinna's designs from the previous year.
In the film adaptation, District 10 female is wearing a greek goddess gown. It starts with a dark blue on the top and slowly turning lighter at the bottom, with a white cape. The District 10 male could be seen wearing a toga. It is unclear how this relates to livestock and animal husbandry work.
District 11 - Agriculture
Seeder wears a purple bodysuit with a wreath of violet flowers. Chaff wears a similar yellow one but with a wreath of corn.
District 12 - Mining
Peeta Mellark and Katniss Everdeen wore outfits with crowns similar to the crowns they received when they were crowned victors, except black and the outfits are described as looking like a glowing ember from inside a fireplace.