Chariot rides
Talk

6
390pages on
this wiki
"I just love how clever the stylists are each year, reflecting the character of each district."
―Caesar Flickerman
When entering the training center, tributes were required to enter via chariot rides that would show the audience what to expect from the districts' tributes. The chariots would be decorated according to which district they belonged and their district's industry. Most of the time the audience would cheer for what they liked and do nothing for the ones they did not like. The chariot rides were very important because it was a chance for the tributes to make an impression and gain sponsors.
For each Hunger Games, it is required that the districts enter in numerical order, starting with District 1 and finishing with District 12.
The 74th Hunger Games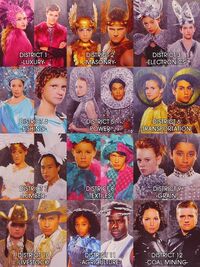 For the
74th Hunger Games
,
Katniss Everdeen
and
Peeta Mellark
made an impression by wearing black unitards, flaming capes and headdresses. This was how Katniss got her nickname, "the girl on
fire
." Their chariot was pulled by black horses. The
District 1
tributes,
Glimmer
and
Marvel
, had glitter sprayed all over their outfits, and were carried by white horses. However, in the film, all the chariots were pulled by black horses.
In the film, the District 1 tributes wore pink outfits. Glimmer wore a large, pink feather headdress and a long dress with pink feather cape. Marvel wore a shiny tunic which also had a pink feather cape. The District 2 tributes wore gladiator-style costumes in the film. The District 5 tributes wore glittery costumes with round shiny plates around their heads. According to The Hunger Games: Tribute Guide, the tributes from District 3 wore shiny costumes with headdresses that mimicked the complex innerworkings of electronics, District 4 wore starfish pins on their shoulders with pearls in their hair, and the tributes from District 10 wore gold and white cowboy costumes. The District 7 tributes wore body suits of paper and headdresses of paper fans. The District 8 tributes wore playful costumes of various, pink and blue fabrics. The tributes from District 9 wore body suits with rows of silver and gold to represent fields of grain, and they wore silver half circles behind their head.
The 75th Hunger Games
For the 75th Hunger Games, the District 3 tributes wore electric bulb studded outfits. Finnick Odair of District 4 wore a fish net that was carefully placed so that it covered his groin. District 7's Johanna Mason was dressed as a tree, though she removed the outfit after the chariot ride and continued wearing only slippers. The tributes of District 10 wore cow outfits with flaming belts, an ensemble whichly greatly bemused Katniss. Peeta Mellark and Katniss Everdeen of District 12 wore outfits with crowns similar to the crown they recieved when crowned victor, except black and outfits that are described as looking like a glowing ember from a fireplace.