District 10 female (75th HG)
Talk

0
434pages on
this wiki
"But what are the livestock keepers from District 10, who are dressed as cows, doing with flaming belts? Broiling themselves? Pathetic."
―Katniss Everdeen on the District 10 tributes parade costumes.
The District 10 female was the female tribute from District 10 who participated in the 75th Hunger Games. She was also the victor of the 68th Hunger Games. She presumably trained other tributes as a mentor.
75th Hunger Games
Edit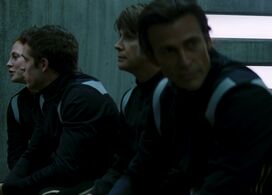 She was reaped for the 3rd Quarter Quell (75th Hunger Games), being a past victor. For the interviews in the film she wore a black leather suit. In the books, during the chariot rides, she was dressed in a ridiculous looking cow inspired outfit, with flaming belts, which unintentionally appeared as if the cows were broiling themselves. Unlike the film adaption, she is seen behind Finnick, when he is talking to Katniss. She is wearing a Greek gown, the top part is dark blue, as the bottom fades into a lighter blue. It is unknown if she showed up for training, as well as her partner.
The Games
Edit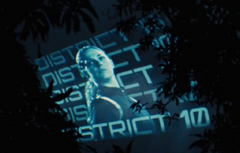 The District 10 female was killed by Enobaria in the initial Cornucopia bloodbath on the first day of the Games. Her pedestal was stationed next to Gloss. She battled Johanna over a tomahawk and managed to win. When she was running away Johanna threw an axe at her but she ducked.  At the end of the bloodbath, after at brief fight with Seeder, she found Wiress and attacked her leaving Wiress with small wounds. She ran towards Enobaria with an axe. Enobaria then slashed her stomach open with a sword, instantly killing her. However, her district partner survived, and managed to escape. Her cannon sounded while Katniss and her alliance were sitting in the jungle along with Cecelia's and the District 9 female's. She placed 18th out of 24th. In the film she survived for, 5 minutes 5 seconds.
Film portrayal
Edit
The District 10 female is portrayed by Tiffany Waxler in the film, The Hunger Games: Catching Fire.