District 3
Talk

1
390pages on
this wiki
"Panem is one of the most advanced nations in mankind's history, thanks to the efforts of District 3. Its computers keep us all connected and its electronic gadgets keep us all entertained."
―Description from The Hunger Games: Tribute Guide
District 3 is one of the 13 districts in Panem. Its main industry is technology. They specialize in televisions and computers. In Catching Fire during the victory tour, Katniss notices that this district, along with District 8 and District 4, shows the most happiness to see her, suggesting that they are one of the more rebellious districts. It is implied in Catching Fire that their citizens lived in abject poverty, as they were one of the first districts to start an uprising. Most of its inhabitants work in factories and are very well adept with engineering. 
Some jobs in District 3 are:
Technical support
Assembly operator
Engineer
Tester
Technician
Electronic installation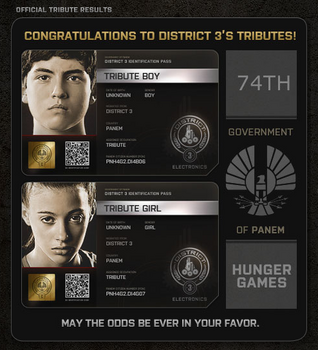 Tributes from District 3 tend to be extremely good in creating and using electronics, a skill that was evident in the male tribute during the 74th Hunger Games, with the mines.
While the District 3 female did not make it far in the 74th Hunger Games, dying in the bloodbath, the male was electronically skilled and he proved that to the careers.
The bread from this district is bite-sized square-shaped rolls.