District 3 female (74th HG)
Talk

19
390pages on
this wiki
The
District 3 female
was the female
tribute
from
District 3
who participated in the
74th Hunger Games
.
74th Hunger Games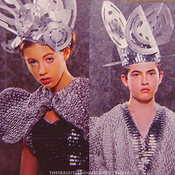 Tribute Parade
In the movie, she is first seen in the
chariot rides
, looking at the
Capitol
citizens around her and waving around nervously along with her
district partner
. They are wearing silver outfits that represent the intricate inner working of electronic devices.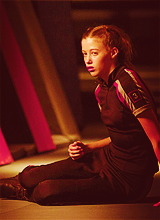 Training
In the film, it shows her listening to Atala, whom is giving the tributes training advice. In a deleted scene of the movie, she was running on the gauntlets during training, and was knocked off. As a result she split her lip. Glimmer, Marvel, Clove, and Cato laugh at her while the others are concerned, especially her partner, who reluctantly laughs after Glimmer elbows him.
Bloodbath
She died in the bloodbath at the Cornucopia. She was stationed on the left of her District partner and on the right of the District 10 boy on the podiums. Like most of the other tributes, she ran towards the Cornucopia. The District 3 female was able to get a backpack. When Peeta is seen running away, her district partner was seen alongside Glimmer, getting to the Cornucopia at the same time as the District 4 female. As time passed, the male from District 5 ran up to her and threw his arms out and grabbed her stomach. The boy went back and pushed her down, face first to the ground. She then had time to get up and as she got up he slashed her with his curved knife or sickle, killing her. The District 5 boy then took the black backpack with him. Later, Cato goes to where her body laid to pick up a water canteen. When the cannons first fired, it was shown when Claudius Templesmith and Caesar Flickerman were talking about the Cornucopia deaths that she had spent 29 seconds in the Games before she died. At night, she is the first of the portraits shown in the sky. It was possible she shared the same time she survived in the games with the female from District 10. As it is unknown who died first.  
Muttation
After her death, she, like the 21 other fallen tributes, had her DNA mixed with a wolf to form a muttation which had similar characteristics to the deceased tribute. It is unknown if her muttation survived after the fight between Katniss, Peeta, and Cato.
Film portrayal
She is portrayed by Kalia Prescott in The Hunger Games film.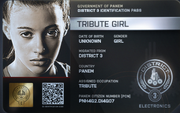 Trivia
She was given the odds 30-1 and was 13 years old.
In the arena, she wore a mustard yellow jacket.
She was the tallest female tribute at 5'9."
The District 3 female, played by Kalia Prescott, appeared in the special features scenes of the DVD.
Her death is confirmed when it is shown in the special features of the DVD.