District 6 female (74th HG)
Talk

11
390pages on
this wiki
The
District 6 female
was the female
tribute
from 
District 6
who participated in the
74th Hunger Games
.
74th Hunger Games
Edit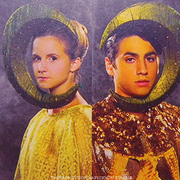 Tribute Parade
Edit
In the Tribute Parade, the District 6 female was dressed in a costume that resembled a moon. A crescent moon-shaped head piece that curved around her face was worn by both her, and her district partner.
During training, the District 6 female was seen standing behind Clove when Atala was explaining the rules. In the Tribute Guide, she is shown running on the gauntlets, along with the District 5 male, in a picture. When her district partner and Cato are fighting, she is seen in a quick shot with a trainer behind the rope station where Thresh, the District 3 male and District 4 male are watching the peacekeepers running towards the fight between Cato and her district partner. On the scoreboard, her odds of winning were 23-1.
Bloodbath
Edit
The District 6 female was stationed to the left of the District 8 male on her pedestal. Like most of the tributes, she ran towards the Cornucopia to get supplies and weapons at the start of the games, grabbing an axe. After Cato strikes the District 10 male, she bends down to pick up the District 10 male's  yellow bag. Glimmer yanks the District 6 female's hair and pulls her away and the two female tributes fight. Glimmer continuously pulls her hair while she holds onto the yellow bag. The battle ends after Glimmer and her both fall onto the ground. She is presumably killed by Glimmer. 
Muttation
Edit
After her death, the female tribute from District 6, like the other fallen tributes, has her DNA mixed with a wolf to form of a muttation which has similar characteristics to the fallen tribute. It's unknown whether or not her mutt survives.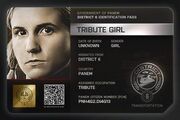 In the arena, she wears a tomato red jacket. She also ties her hair into pigtails.
The only item she gets is the yellow rolled up sleeping bag.
On the scoreboard behind Caesar and Claudius, her statistics are displayed very vaguely, but it's possible she survived the games for 24 seconds, and with that, she places 22nd.
In The Fallen broadcast, her portrait, along with her district partner, is omitted, although they are killed that day.
She is tied with the District 7 female for second smallest female tribute in the Games.
She is the first female tribute to die in the 74th Hunger Games.
In the special features of The Hunger Games DVD, she is shown being attacked by Glimmer twice. She appears longer in this deleted scene than she does in the entire film.
Film portrayal
Edit
In The Hunger Games film, the District 6 female tribute is portrayed by Kara Petersen.