District 7 male (74th HG)
Talk

0
422pages on
this wiki
The District 7 male was the male tribute from District 7 who participated in the 74th Hunger Games.
74th Hunger Games
Edit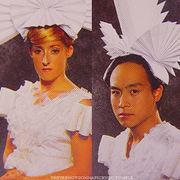 Tribute Parade
Edit
In the film, he and his district partner were seen wearing fan-like paper headdresses and paper clothes, representing lumber, though Johanna Mason said their stylist have been dressing District 7 tributes as trees for the last 40 years.
In training, he received an 8-1 odds of winning. This is quite high for a tribute, especially one from an outlying district.
Cornucopia bloodbath
Edit
The District 7 male was killed in the initial bloodbath. He is stationed on the right of Foxface and on the left of Cato on the pedestals. Like a majority of the other tributes, he fought for supplies and weapons. While his district partner was struggling over a backpack with the District 3 male, he confronted Thresh as he tried to escape the cornucopia, threatening him with a single spear. However, Thresh managed to evade the attack and slit his throat with his curved sword, effectively killing him.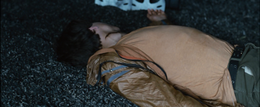 Due to continuity inconsistencies in the film, the District 7 male appears to have two deaths. He is also seen with an ax, poised to attack Katniss Everdeen, before Clove throws a knife into his back, causing him to fall to the ground, apparently dead. Although it is possible he survived this, since his final fate seems to be his confrontation with Thresh, it appears that he partially takes the role of the District 9 male in this instance.
Muttation
Edit
After his death, the male tribute from District 7, like all the other fallen tributes, had his DNA mixed with a wolf to form a muttation which had similar characteristics to the fallen tribute. It is unknown whether his mutt survived.
Film portrayal
Edit
In
The Hunger Games
film, the District 7 male tribute is portrayed by
Sam Ly
.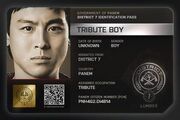 He almost killed two people, Katniss and Thresh, but got killed as he was about to kill them. He also uses two weapons in the process of attempting to kill them: a spear and an axe.
In the Tribute Guide he is 16, but in the film, he is shown to be 17 on the scoreboards and weighs 138 pounds.
In the arena, he wears a russet brown jacket.
In the bloodbath, he replaces the District 9 male, making him appear to have two deaths.