District 9
Talk

12
422pages on
this wiki
District 9

Industry
Grain
Victors
Unknown
Mayor
Unknown
Rebels
Unknown
"District 9 is Panem's bread bowl, giving us the fertile harvest we need to keep rising as a nation. Its amber waves of grain are an inspiration to us all."
―Description from The Hunger Games: Tribute Guide
District 9 is one of the thirteen districts of Panem. It is responsible for grain. It is mentioned that District 9 has many factories, most likely for grain processing.
Jobs
Some jobs in District 9 include:
Cropper
Farmer
Plower
Sower
Harvester
Known tributes

Both the male and female tributes from this district died on the first day of the 74th Hunger Games. Though they were never named, Katniss has a close encounter with the male. At the Cornucopia, they both ran for the same backpack and fought over it. Suddenly, he began coughing up blood on Katniss' face and collapsed to the ground. When Katniss saw the knife in his back, she realized that Clove had killed him and was aiming for her next. The District 9 male is said to be the first tribute that died in the 74th Hunger Games. In the film, his death changes.
The tributes from the 75th Hunger Games were also unknown. It is hinted that during the Tribute Parade, the tributes were only hinted to be dressed like bread. It is assumed that they died in the initial bloodbath at the Cornucopia. If not, they died later in the first day.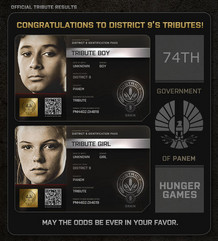 District 9 is the only district in which all of the unnamed tributes have died in the bloodbaths in the two most recent Hunger Games. The possible reason is that the district is very urban, and the tributes don't have experience in natural passages of the arena.
Trivia
District 9 is the least spoken about district in the Hunger Games series.
The only hint given that District 9's industry was grain is that it is said that District 9 has lots of factories.
In the 75th Hunger Games, District 9 was one of the two districts to have both tributes killed on the first day.
In the 74th Hunger Games, District 9 was one of the five (movie) and three (book) Districts to have both tributes die on the first day.
There is no known person from District 9 in the books.