"District 9 is Panem's bread bowl, giving us the fertile harvest we need to keep rising as a nation. Its amber waves of grain are an inspiration to us all."
―Description from The Hunger Games: Tribute Guide
District 9 is one of the thirteen districts of Panem, and its primary industry is grain production. It is mentioned that the district has many factories, most likely for processing the harvested grain.
Jobs
The following jobs are offered in District 9:
Cropper
Farmer
Plower
Sower
Harvester
Known tributes
Trivia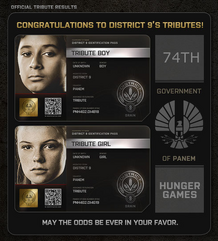 District 9 is the least spoken about district in the Hunger Games series.
It's unknown, but unlikely, that the District 9 victors were part of the rebellion alliance to free Katniss as they weren't mentioned as one of the districts that took part.
There is no named person from District 9 in the books or the films.
District 9 was the 5th - 10th district to pry from Capitol rule.
In the Mockingjay Part 1 film, Peeta stated reports of rebelling districts. He mentioned that there was a district that set granaries on fire, this presumably was the method of rebelling District 9 had done by cutting food supply. Peeta mentioned this alongside District 5's dam explosion, and a district cutting off railroads from the Capitol.
District 1, District 5 and District 9 are the only districts without a known rebel.
District 9 is the only district where all tributes of the two most recent games have been killed in the bloodbath.
According to the Capitol.PN, District 9 has 12 mills in operation with a population of 15,346, making it the eleventh largest district, in terms of population.
According to the Capitol.PN, District 9 claims 70,532 in tesserae, making it the fourth most impoverished district. 

It is a very poor district, though slightly better than District 11.
If the population is 15,346 and they claim 70,532 tesserae, it would equal to 4.593 tesserae per person, making it the 9th richest District.