District 9 female (74th HG)
Talk

11
390pages on
this wiki
The District 9 female was the female tribute from District 9 who participated in the 74th Hunger Games.
74th Hunger Games.
Edit
Tribute Parade
Edit
In the film, she is first seen in the tribute parade with her district partner, wearing a silver outfit. She is seen when the camera focuses on the District 7 partners and is waving at the crowd.
She presumably participated and trained with her district partner during training.  
Bloodbath
Edit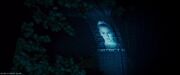 The District 9 female is killed in the initial bloodbath. At the beginning of the Games, she runs towards the Cornucopia for supplies. Glimmer eventually stabs her to death with a knife.
Muttation
Edit
After her death, the District 9 female, like all the other dead tributes, had a wolf muttation created in her likeness. It is unknown if her muttation survived the battle between the pack and Cato, Peeta, and Katniss.
Film portrayal
Edit
In The Hunger Games film, the District 9 female was portrayed by Annie Thurman.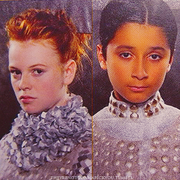 In the film, she weighs 88 pounds and her age is 14.
The District 9 male, female, the District 8 female and the District 10 female were considered extra characters and they only shot the parade. They do not appear in the training scenes or the bloodbath.
In training, her odds of winning were 28-1. She most likely ended up with a 3 or 4.
In the arena, she wore a bottle green jacket.
She survived 10 minutes and 24 seconds in the bloodbath.
She is seen in the sky when The Fallen images are shown. Her face was also the last one seen on day one.
In the Hunger Games: Training Days board game, she and her District partner, along with District 6, and 10 were not given cards or any recognition.
You only see her in the chariot scenes, in the other scenes with all the other tributes, she is missing.