Escort
Talk

0
390pages on
this wiki
An escort is a citizen of the Capitol whose main duty is to accompany the tributes of their assigned district and teach them how to behave properly.
They also have the distinct honor of randomly choosing the names of one male and one female tribute from two separate glass balls during the reaping. They have dozens of tasks assigned to them around the time of the annual Hunger Games.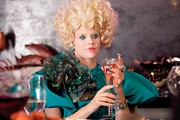 If the escort's tribute is a victor, the escort's job includes "escorting" the victor on the Victory Tour. After this, the escort may be promoted to a higher ranking district for the next year's games.
The only known escort is Effie Trinket, the District 12 escort. Effie Trinket is a kind and peppy escort who cared for tributes Katniss Everdeen and Peeta Mellark while they dwelled in the Capitol. She would always make announcements and schedule to prepare and get ready for the day ahead of them.