Jennifer Lawrence
Talk

8
423pages on
this wiki
Birth name
Jennifer Shrader Lawrence
Years active
2006-present
Jennifer Shrader Lawrence (born August 15, 1990) is an American actress who portrays Katniss Everdeen in the The Hunger Games film and The Hunger Games: Catching Fire.[1]
Lawrence's most famous roles to date are in Winter's Bone and Silver Linings Playbook. She was nominated for the Academy Award for Best Actress for Winter's Bone, but ended up winning that same award for Silver Linings Playbook. She has starred in several other major films such as The Burning Plain, The Poker House, and X-Men: First Class. She is also set to reappear in the sequel, X-Men: Days of Future Past.
She placed 10th in PopSugar's PopSugar 100 Top 10 Rising Stars released in June 2011.[2]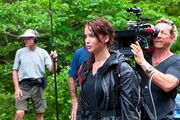 Lawrence's casting as Katniss was approved author Suzanne Collins and director Gary Ross in defense of some speculation that she might be too old for the role.[3] For her audition she played the scene where she is pleading with her mother to speak after her father's death. On May 18, 2011, Entertainment Weekly revealed on their magazine cover the very first photo of her as Katniss Everdeen.[4] Lawrence almost dropped out of the film due to an injury on set, but handled it and continued to play Katniss. While goofing around on the set with co-star Josh Hutcherson, Lawrence accidentally kicked him in the head, giving him a concussion. However he downplayed its effects to continue filming.
It has been confirmed that a file of Lawrence's vocals were used for the soundtrack of The Hunger Games film.
She was awarded "Best Female Performance" at the MTV Movie Awards for her role as Katniss.
Lawrence and her costar, Josh Hutcherson, were raised in towns close to one another. Hutcherson is the reason her parents allowed her to pursue acting. The statement "If he can make it, so can I", may have been what really convinced the Lawrence's .
External links
Edit
References
Edit