The Hunger Games: Mockingjay - Part 1
Talk

27
437pages on
this wiki
Studio
Lions Gate Entertainment
Release date(s)
November 21, 2014(USA and UK)
"Fire Burns Brighter In The Darkness."
―Official tagline
The Hunger Games: Mockingjay: Part 1 is the film adaptation of the first half of Mockingjay by Suzanne Collins and the sequel to Catching Fire film. It is currently scheduled to be released November 21, 2014.[1]
All of the actors whose roles continue into the final films are set to reprise their roles in Mockingjay. Francis Lawrence has been confirmed as director for both Mockingjay films, following his helming of The Hunger Games: Catching Fire.
Synopsis
The worldwide phenomenon of The Hunger Games continues to set the world on fire with The Hunger Games: Mockingjay – Part 1, which finds Katniss Everdeen (Jennifer Lawrence) in District 13 after she literally shatters the Games forever. Under the leadership of President Coin (Julianne Moore) and the advice of her trusted friends, Katniss spreads her wings as she fights to save Peeta (Josh Hutcherson) and a nation moved by her courage.[2]
Production
The film adaptations of Mockingjay have been announced: Part 1 will be released November 21, 2014, and Part 2 will be released November 20, 2015. This follows what the actors in The Hunger Games have been saying about signing on for four films.[3] Based upon Lionsgate's renaming of the film for Catching Fire, it is known that the last films will be called The Hunger Games: Mockingjay Part 1 and The Hunger Games: Mockingjay Part 2. While filming in Atlanta, Georgia it was revealed that both parts will be shot back-to-back.[4]
Cast
| | |
| --- | --- |
| | New Characters Introduced: |
Quotes
Haymitch Abernathy: "You know, Effie, I like you better without all that makeup."
Effie Trinket: "I like you better sober."
[Katniss boards a hovercraft with Gale, Boggs, Cressida and her crew]
Cressida: "This is my assistant, Messalla-"
Messalla: (nods) "It's an honor to meet you."
Cressida: "-And your cameramen over there, Castor-"
Castor: (smiles, nods) "Hello."
Cressida: "-And Pollux. (Pollux smiles and nods to Katniss, who nods in return)
Boggs: "Let's get locked in." (they take their seats. Katniss glances at Pollux as she sits next to him)
Katniss Everdeen: (to Pollux)"...You're all from the Capitol? Plutarch got you out?"
Cressida: "Don't expect much chitchat from him. He's an Avox. The Capitol cut his tongue out years ago. (Pollux smiles weakly and exchanges hand signs with Castor) And no, it wasn't any sort of rescue, if that's what you mean. We all fled on our own. For this... (smiles) for you."
Alma Coin: "They don't know what we have here, or where we have it. Conceal all remaining anti-aircraft guns. Seal the ventilation ducts- we're going to wait this one out."
Plutarch Heavensbee: "They'll seal us in here like a tomb!"
Alma Coin: "They're working off of outdated information- I don't want to correct them."
Plutarch Heavensbee: "Madame President, I know it's not my place-"
Alma Coin: "You're right. It's not. You're a welcome guest, but you're out of your depth down here. (to Boggs) Reduce oxygen levels to fourteen percent to conserve the air supply. (Plutarch turns pale) Take a deep breath, Mr. Heavensbee- it's going to be a long night."
Alma Coin: (to Katniss Everdeen) "There's something you should know- we had eight extra minutes of civilian evacuation because of Peeta's warning. I won't forget that."
Music
Videos
Motion Poster
The motion poster is on http://www.thehungergamesexclusive.com/issue1/6.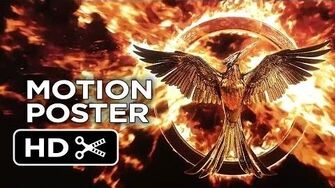 Differences from the Book
Please see The Hunger Games: Mockingjay book to film differences.
Trivia
This is the first Hunger Games film not to be released in IMAX.
There is a new logo to foreshadow Mockingjay Part 2 at the end of Mockingjay Part 1, like at the end of Catching Fire.
See Also
References