The Hunger Games: Mockingjay - Part 1
Talk

23
434pages on
this wiki
Studio
Lions Gate Entertainment
Release date(s)
November 21, 2014(USA and UK)
"Fire Burns Brighter In The Darkness."
―Official tagline
The Hunger Games: Mockingjay: Part 1 is the film adaptation of the first half of Mockingjay by Suzanne Collins and the sequel to Catching Fire film. It is currently scheduled to be released November 21, 2014.[1]
All of the actors whose roles continue into the final films are set to reprise their roles in Mockingjay. Francis Lawrence has been confirmed as director for both Mockingjay films, following his helming of The Hunger Games: Catching Fire.
Part 1 is completed and ready for release according to IMDB.[2]
Synopsis
The worldwide phenomenon of The Hunger Games continues to set the world on fire with The Hunger Games: Mockingjay – Part 1, which finds Katniss Everdeen (Jennifer Lawrence) in District 13 after she literally shatters the games forever. Under the leadership of Commander Coin (Julianne Moore) and the advice of her trusted friends, Katniss spreads her wings as she fights to save Peeta (Josh Hutcherson) and a nation moved by her courage.[3]
Production
The film adaptations of Mockingjay have been announced: Part 1 will be released November 21, 2014, and Part 2 will be released November 20, 2015. This follows what the actors in The Hunger Games have been saying about signing on for four films.[4] Based upon Lionsgate's renaming of the film for Catching Fire, it is known that the last films will be called The Hunger Games: Mockingjay Part 1 and The Hunger Games: Mockingjay Part 2. While filming in Atlanta, Georgia it was revealed that both parts will be shot back-to-back.[5]
Cast
| | |
| --- | --- |
| | New Characters Introduced: |
Music
Videos
Motion Poster
The motion poster is on http://www.thehungergamesexclusive.com/issue1/6.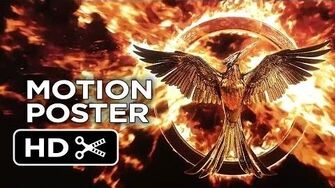 Differences from the Book
Please see The Hunger Games: Mockingjay book to film differences.
Trivia
This is the first Hunger Games film not to be released in IMAX.
It has been rumored that at the end of the credits there will be a new mockingly logo featured like at the end of it like at the end of Catching Fire.
See Also
References