President Snow's Granddaughter
Talk

13
424pages on
this wiki
President Snow's Granddaughter
Age
Unknown (12-18)
Occupation
Capitol Resident
Home
Capitol
Gender
Female
Weapon
N/A
Fate
Unknown
Mentioned
Mockingjay
"One day I want to love someone that much, Grandpa."
―President Snow's Granddaugther
President Snow's granddaughter is one of the few known members of President Snow's family who is briefly mentioned by the end of Mockingjay.
MockingjayEdit
In the books, she is only mentioned in Mockingjay, when Johanna Mason mentions her possible participation in a proposed 76th Hunger Games involving the children of the Capitol, due to being the granddaughter of Panem's long-time, ruthless dictator. Although it is not her fault, the other victors believe the same about the tributes from the districts. They also want her to participate as she is one of the most, if not the most, important Capitol child.
Film Portrayal
Edit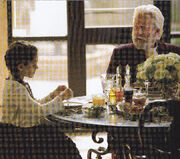 She is also seen in the film adaption of Catching Fire. She appears to look up to Katniss Everdeen and makes her first appearance in Catching Fire wearing her hair in the side braid that Katniss wore in the first Hunger Games. When President Snow questions why she is wearing it like that, she replies "This is how every one at school is wearing it, Grandpa," as it is a trend in the Capitol. Unsurprisingly, Snow barely hides his displeasure.