Romulus Thread
Talk

2
425pages on
this wiki
"Very well. Get your cousin out of here, girl. And if he comes to, remind him that the next time he poaches off the Capitol's land, I'll assemble that firing squad personally."
―Romulus to Katniss Everdeen
Romulus Thread
becomes the new 
Head Peacekeeper
of
District 12
in
Catching Fire
.
Biography
Edit
Harsh and unforgiving, Thread appeared in Catching Fire, ready to enforce the law, no matter what. Being fiercely loyal to the Capitol, he was willing to do whatever it took, going to such extremes that he injured Katniss, the victor of District 12 who had an upcoming modeling session.
Upon arrival, Thread brutally beat Gale Hawthorne, who had been caught poaching a wild turkey (for pushing Thread away from beating someone, in the film). Although Gale had been selling meat to the Peacekeepers of District 12 for years, they turned a blind eye to this illegal poaching, since they were his best customers. Gale went to sell the turkey to Cray, Thread's predecessor, when he unexpectedly found Thread at Cray's house. Thread saw Gale's poaching as a flogging offense, and threatened to kill Katniss or Gale if he saw either one of them in the woods. Darius tried to intervene after about 20 lashes by grabbing Thread's arm but was struck in the head by Thread, knocking him unconscious.
After that display of cruelty, people stayed inside their houses, rather than risking the wrath of the new band of Peacekeepers, including Katniss. A few days later, however, Katniss crept out of her house and headed to the woods where she met Bonnie and Twill. Upon her return she found Peacekeepers sent by Thread to deliver a message: the fences will now be electrified 24/7.
It is later revealed that Darius had probably been turned in to the Capitol by the Peacekeepers lead by Thread. Due to this, Darius was made into an avox specifically as a warning to Katniss.
While Thread was the Head Peacekeeper, he burned down the Hob, knowing it was the place Katniss used to sell her game.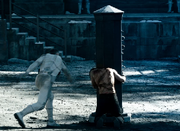 Thread was the new Head Peacekeeper in District 12, replacing Cray, the previous Head Peacekeeper. Being the new Head Peacekeeper, he had to enforce
Panem's
laws in the
district
. If the law was broken by anyone, he arranged for punishment. Initially he had to go by District 12's protocol when Peacekeeper
Purnia
confirmed the amount of whip lashes one is supposed to receive, and what is punishable by death. Following actions by the District 12 Peacekeepers seem to indicate that previous punishments and protocols have been revoked by the Capitol in their aim to crush the rebellion in the districts.
It is unknown if the Capitol got him out before the bombing of District 12, but if the Capitol did get Thread out, he was likely tried and executed by the rebels.
Personality
Edit
Thread is terribly loyal to the Capitol, and wouldn't hesitate to use brutal and cruel methods to enforce its rule. Thread was uncompromising and if the Capitol's oppressive laws were broken, he willingly carried out harsh punishments.
Physical description
Edit
Thread, as Katniss explains, had close shaved gray hair and dark gray eyes, not like those in the Seam. He looked especially cruel with his new Peacekeeper uniform.
Film portrayal
Edit
Patrick St. Esprit portrays Thread in the film The Hunger Games: Catching Fire.
Etymology
Edit
Romulus was considered to be the legendary founder of the city of Rome as well as its first king. This ties in to the many Ancient Roman references in the series.