The Hunger Games: Catching Fire
Talk

41
423pages on
this wiki
Studio
Lions Gate Entertainment
Release date(s)
November 22, 2013(USA and UK)
"Every Revolution Begins With a Spark."
―Official tagline
The Hunger Games: Catching Fire is the film adaptation of Catching Fire by Suzanne Collins and the sequel to The Hunger Games film.[1] It was released on November 22, 2013.
Development
Gary Ross, who directed The Hunger Games, opted not to return to direct The Hunger Games: Catching Fire. He cited the time needed to write and prep the movie given its tight production schedule as the deciding factor in a joint statement with Lions Gate Entertainment on April 10, 2012.[2] Instead, the film will be directed by Francis Lawrence, with screenplay by Michael Arndt, Simon Beaufoy, and Suzanne Collins. On May 24, 2012, it was announced that the film would be officially renamed The Hunger Games: Catching Fire.[3]
Plot
After surviving the 74th Hunger Games, Katniss Everdeen and Peeta Mellark return home to District 12. Katniss and Peeta are required to take victory tour of the country. President Coriolanus Snow visits Katniss and tells her she has inspired rebellions in the districts, when she and Peeta threatened suicide so both might survive the games. He orders Katniss to convince the entire country that her and Peeta's love was the reason for their actions, and to convince Snow himself.
The tour first visits District 11, home of Rue, the young girl Katniss tried to protect in the games. Katniss and Peeta voice their personal thoughts regarding both the districts' fallen tributes. A man in the crowd whistles the tune Katniss and Rue used to signal each other, and makes the three-finger salute of District 12. Everyone follows the man's example until a Peacekeeper shoots him dead, leaving Katniss visibly upset. Their mentor, Haymitch Abernathy, tells Katniss and Peeta the "show" of their relationship must continue for the rest of their lives. Katniss proposes a public engagement between herself and Peeta, which is carried out and celebrated at Snow's home in the Capitol.
Returning home, Katniss warns her close friend, Gale Hawthorne, of President Snow's threat to kill both their families. Peacekeepers crack down in District 12, and Gale is publicly whipped after attacking new Head Peacekeeper Romulus Thread. Snow announces Panem's third Quarter Quell, a special version of the Hunger Games held every 25 years; for this Quell, all tributes are to be selected from the existing pool of victors. Katniss immediately devotes herself to ensuring Peeta becomes the Quarter Quell's victor, should he compete in the games. At the reaping, Katniss, the district's only living female tribute, and Haymitch are reaped by chaperone Effie Trinket. Peeta volunteers to take Haymitch's place and is sent directly to the train with Katniss, without a chance to say goodbye to their loved ones.
Katniss is forced to watch Cinna savagely beaten seconds before the games. Moments after the games begin, Katniss allies with Finnick Odair and an elderly woman, Mags, from District 4. Peeta is shocked by an electrical barrier, which stops his heartbeat until Finnick is able to revive him. Mags sacrifices herself to a poisonous fog, to allow Finnick to carry and save Peeta instead of her. They rest in the forest, but are attacked by murderous apes. Peeta is again saved when a woman from District 6, a camouflage expert and drug addict, sacrifices herself. They escape to the beach, and are met by District 3's intelligent tributes, Wiress and Beetee, and District 7's female tribute, Johanna Mason. Wiress discovers that the arena is designed like a clock and every hour a specific attack occurs in its designated section. After Wiress' death, Beetee suggests a plan to electrocute the two remaining tributes outside the alliance, District 2's Brutus and Enobaria, using wire and a tree that is struck by lightning at noon and midnight daily. When the wire snaps, Johanna attacks Katniss, cutting the tracker out of her arm. Katniss tries to find Peeta at the tree. Unable to find him, she attaches the remaining wire to an arrow and shoots it at the force field during a lightning strike, destroying the arena.
She awakens in an aircraft with an unconscious Beetee. Entering the cockpit she finds Haymitch, Finnick and Plutarch Heavensbee, the head gamemaker, revealed to be a rebel against Snow. Learning she is on her way to District 13 although Johanna and Peeta were taken away by the Capitol, she attempts to attack Haymitch for not fulfilling his promise of returning Peeta home safely. Plutarch sedates her and she awakens days later with Gale by her side, who informs that her family is safe but District 12 has been destroyed.
Cast
Tributes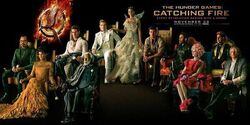 Other characters
Music
Main article: Catching Fire Soundtrack
Videos
Promotional
TV Spots
Clips
Interviews
Motion poster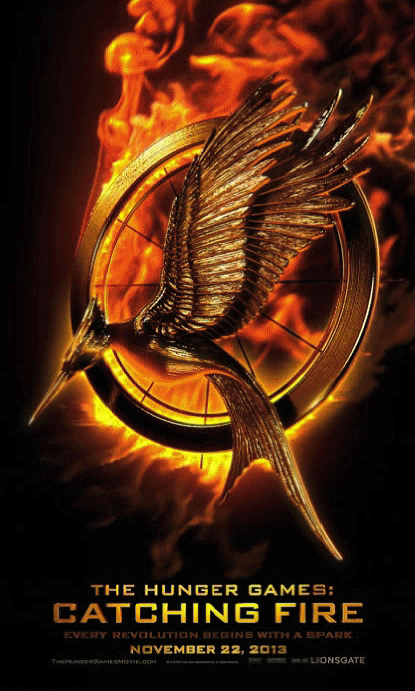 Differences from the book
Please see The Hunger Games: Catching Fire book to film differences
Trivia
Facebook pages and a website (thecapitol.pn) have been set up by Lionsgate, with each District having its own page. A recently launched website, District13.pn, is blank to represent District 13's non-existence in Panem. The tab name reads: "CAUTION: RADIATION HAZARD. NO TRESPASSING BEYOND THIS POINT." District 13 is still toxic as far as all of Panem is concerned.
The sites were confirmed as real by Lionsgate, along with all 13 District URL's which link directly to each Facebook page respectively and the Capitol and District 13's website according to thehob.org
See also
References
Quotes
"Katniss, I don't know what kind of deals you made with Haymitch, but he made me promises too. If you die, and I live, I'd have nothing. Nobody else that I care about."-Peeta explaining to Katniss that she is the only person he really cares about.
"Since the last games, something is different. I can see it." "What can you see?" "Hope."-Prim telling Katniss she can sense hope.
"Any last advice?" "Stay alive."-Haymitch telling Katniss to stay alive in the Hunger Games.
"Remember who the real enemy is."-Haymitch to Katniss.
"We wanted our love to be eternal. You know, Katniss and I were luckier than most. I wouldn't have any regrets at all, if it weren't... if..." "If it weren't... for what? What?" "If it weren't for the baby."-Peeta telling Caesar Flickerman about the "baby".
"You saved my life. You gave me a chance." "Yes, to live." "No, to do something."-Prim telling Katniss she needs to help.
"This trip doesn't end when you get back home."-Haymitch explaining that Peeta and Katniss will have to be a distraction and always act as if they are in love.
"Eyes bright, chins up, smiles on. I'm talking to you, Katniss."-Effie ordering Katniss.
"The other victors. Because of her, they all pose a threat. Because of her, they all think they are invincible."- President Snow to Plutarch about Katniss.
"People are looking to you, Katniss. You've given them an opportunity. They just have to be brave enough to take it."-Gale to Katniss about giving an opportunity to the people of the Districts.
You saved us. I know that. But I can't go on acting for the cameras and then just ignoring each other in real life."-Peeta telling Katniss that he doesn't want to fake the romance anymore.
"This is the 75th year of the Hunger Games. The tributes are to be reaped on the existing pool of victors!"-President Snow explaining how the Tributes will be Reaped.
"I want you guys to forget everything you think you know about the games. Last year was child's play. This year, you're dealing with all experienced killers."-Haymitch explaining that all the Tributes will be experienced.
"I think these games are gonna be different."-Haymitch explaining the Hunger Games being different.
"You fought very hard in the Games, Miss Everdeen. But they were games. Would you like to be in a real war? Imagine thousands of your people, dead. Your loved ones, gone."-President Snow to Katniss about the Uprising.
"She's not who they think she is. She just wants to save her skin. It's as simple as that. She has become a beacon of hope for them. She has to be eliminated. What do you think?" "I agree she should die but in the right way. At the right time. Katniss Everdeen is a symbol. We don't have to destroy her, just her image. Show them that she's one of us now. Let them rally behind that. They're gonna hate her so much they just might kill her for you."-President Snow and Plutarch about killing Katniss.
"We have to go Gale, before they kill us. They will kill us."-Katniss persuading Gale to run off with her.
"A wedding dress? Really?" "Snow made me wear it." "Make him pay for it."-Johanna Mason and Katniss about the Wedding Dress.
"So it's you and a syringe against the Capitol? See, this is why no one lets you make the plans."-Haymitch to Katniss after she tries to find Peeta and kill him.
"You understand, that what ever I do, it comes back to you and mom. I don't want you to get hurt."-Katniss to Prim about protecting her.
"They fought with honor and dignity until the end. Both Thresh and Rue were so young. But our lives aren't just measured in years. The measure in our lives are the people we touch around us. For myself, for Katniss. We know that without Thresh and Rue, we wouldn't be standing here today."-Peeta explains that he and Katniss were grateful for Rue and Thresh.
"Your fiancé's right. The whole country loves your sister. If they torture her, or do anything to her, forget the districts. There will be riots in the Capitol. Hey, how does that sound Snow? What if we, what if we set your backyard on fire? You can't put everybody in here!"-Johanna explaining that nobody will hurt Prim.
"What? He can't hurt me. There's nothing left that I love."-Johanna reassuring everyone that President Snow can't hurt her.
"No waving and smiling this time. I want you to look straight ahead as if the audience and this whole event are beneath you."-Cinna giving orders to Katniss.
"Remember, Girl On Fire, I'm still betting on you."-Cinna explaining that he's still betting on Katniss to win the Hunger Games.