Training stations
Talk

4
390pages on
this wiki
Inside the Training Center, there are several training stations where tributes are able to train and learn survival and fighting skills they may need in order to survive in the arena. Each station is staffed by an expert and assistants that are on hand to spar with the tributes if they wish, as they are forbidden to fight each other before the Hunger Games begin. On the third day of training, each tribute is given a private session with the Gamemakers to show their strongest skill and be graded on a scale of 1-12.



Edible Insects
Edible Plants
Fire Making
Fishing
Hammock Making
Hand-to-Hand Combat




Knots
Shelters
Snare-setting
Weight-lifting
Wrestling
The Gauntlet
Edit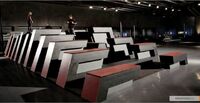 The Gauntlet is a daunting obstacle course used in the Training Center. It consists of ascending platforms that rise up to a landing. Tributes must jump from platform to platform to finish in the fastest time possible. To make it even more difficult, trainers swing padded clubs at the tributes. This station is very popular and all the Careers have a go at this first. The station is not very popular to the tributes who are shy, less able, or want to stay inconspicuous. In a deleted scene of the film, the District 3 female fell off the gauntlet and split her lip which caused her to start bleeding.
Ropes Course
Edit
The Ropes Course consists of a large rope net that stretches across the ceiling of the gym. Only the very nimble can leap around up there. It is not as popular as some of the fighting techniques, but in the film the Careers think it is important because they line up to try it and laugh at Peeta when he falls from the ropes. Rue uses it to hide after having nabbed Cato's knife when he was not looking. The District 8 boy also fell off the ropes course.