Hi! My name is Andy, I have been on wikia since April 2012. :)
Tributes: Name: Galina Trebunskovina Age: 14 District: any district that works (prederably 3,4,5,7,8, or 9) Sex: Female Weapon(s): Throwing knives and archery Appearance: Slender and skinny. She has long wavy cascading bright red-orange hair down to her elbows. She has pale skin and deep aquamarine eyes. Personality: Sh is very strong willed. Sh knows her way around very well. Sh is autistic, however, therefore confirming that she has some trouble fitting in correctly and doesn't quite always get the ding perfectly. But she is smart, and clever, and can form VERY elusive and sly schemes. Strategy for bloodbath and after: She does not participate in the bloodbaths, for she knows it is just a temptation and a stupid idea. She is much like Foxface, but is somewhat more powerful and deadlier. Her plans are like Foxface's combined with Johanna's, which is basically evade at all costs unless in danger, then kill. Token: A very special ink pen passed down from her family. Backstory: She had a very sorrowful reaping. Her district partner was her only friend. Her parents hated her so much they forced her into volunteering. Her district partner was in love with her and volunteered as well, but by choice. Galina fell in love with her district partner, Andy, when he confessed his love for her on the train ride. They allied in training and decided to work together to win. Alliances: Andy, her district partner. Strengths: Good swimmer, is sly and sneaky. Weaknesses: Acrophobia, arachnephobia, clumsy.
Name: Andy Jernova Age: 13 Weapons: Throwing knives District: Whatever Galina's district will be. Sex: Male Appearance: Has dyed red hair that falls to his shoulders in small waves. Is very skinny and somewhat short. Has pale skin. Aqua eyes. Personality: He has autism like Galina. He is very sweet and bubbly, but when depressed or overwhelemed he becomes very snarky and snippy and tends to drift away from others. He, too, has autism and he handles it very well. He is still very intelligent and works with Galina as a team. Backstory: He volunteered for his crush, Galina, when she was forced by her own parents into volunteering. Andy expressed his love for Galina on the train and both shared a long, heart warming kiss, and became a couple. In training they decided to ally, and show the judges what they could do. Strategy for the bloodbath and after: Same as Galina's plans. He hides and only kills if need be. He does not participate in the bloodbaths. Token: A binder of notes from friends saying goodbye after his reaping/volunteering. Strengths: Strong swimmer, very elusive and clever. Weaknesses: Clumsy and arachnephobic. Alliances: Galina.

Name: Andy Hann Age: 14 Gender: Male District: 8 Weapon: Archery, Throwing Knives Strengths: Speed, Sexiness, Manipulative Personality >:) Weaknesses: None! Oh fine. Clumsiness, Austism How He Won His First Games: When the game makers triggered a disaster of falling paper, Andy was able to fold them into origami-cal shapes. The other tributes couldn't fold and died from too many paper cuts.
Wiki Friends: (no order)
Asfbn - Second friend on wiki. She is amazing and sweet and she loves joking around. (I miss u Abby!)
Dannoh403 - Fun and Random. He always has advice when your day is dark, and his friend "Sev" hates me lol
Miscellaneous2 - Lovable, Friendly, and Kind. She is my "Derpy Buddie" as she puts it, and we have the weirdest conversations lol.
CatLover - She loves my videos and she is such a fun girl. I've known her on wikia even before she made her account, back when she was the wiki contributor, Ducky 35. She is currently my newest friend on wikia! :D

Katniss&PrimSisterhood - Generous and charming. She always knows what to do when encountered with a problem.
Ashtonmoiolover - Fun and Bubbly. She is always fun to have around and I miss her so much!
UniCandy - Amazing and Random. She is always in a delightful mood and you can always count on her to brighten your day.
Lily - The Queen o' Sass. But in a good way. She was sweet and friendly in a sassy way. (miss u lily!)
Beautiful Mistake - A blast to have around. She is always joyful and she is very understanding.
District1Obsessed - Awesome and Amazing. Has some of the best tributes and she just LOVES having them clobbered in my games :p.
Limecube20 - Not really on wiki. She was online once. She's my old classmate, Katie lol.
Dedejacob - The. Best. Lunaiis. I have already asked him to make Lunaiis for my games for a while cuz my computer is down. He is hyper and loves spamming the (jelly) emote. (get on chat bro!)
Katie1197 - Sweet and caring. Se is the bubbliest girl I know and she always can brighten your day. We rarely see each other, but having her around is such a blast!
HKTLovesGlimmer - Awsome and Sweet. He is a fun guy and he always knows when to blurt out a random topic.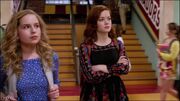 ~PoundtheAlarm~ - Do I have to explain? Who doesn't enjoy her?
MR.Clove14 - Cynical and Negative in a friendly way if that makes sense.
AvatarMilly -She is gone now but she was one of my first friends on Wikia. She is/was great to hang out with on chat, and her interest in starting a pie revolution will never be forgotten.
Thomasb97 - We're kinda friends. We started off great but we don't really chat anymore.
Rue111- ipI think she left but she was a cool gurl
TeamRue Gaby - first person I met on wikia and she is sadly gone now. She was silly and energetic, and her enthusiasm is missed.
Glimmer in the Sunlight - Not a genuine person. Just some random person I created cuz I was bored at the time.
Haalyle - Haven't seen her in a while, but she is amazing and friendly. You can always count on her for advice.
Jsm13athome -awesome and enthusiastic. He has a strange habit of saying "I farted!" But I look beyond that and see a cool and fun dude.
Lexi13 - Currently blocked, but she was fun and energetic.
Annamisasa - Once again. Do I have to explain? Who doesn't love Anna?
TDR97 - An amazin bud. I find him fun to talk to both because of his generosity and his autism. I have autism as well, and can relate to him a lot.
GlimmerandSparkle - Fun and talkative. She always gets your mind thinking on something interesting.
Iluvgale - When we first started, we didn't get off on the right foot. But over time, we've come to be friendlier than either of us would imagine.
BlissfullyMine - She is fun to be around, and she has been to the bay are before. (I lives in Bay Area)
Kman528 - We started out with antagonistic personalities toward one another but came to reconcile and become much closer in a POSITIVE way lol
And like, so many more
Not Such Good Friends (hope we can be friends someday):

M.U.S - He isn't on this wiki, but ever since we met, he was constantly spamming my profile page (not this wiki) and posting sexist comments about my sister.