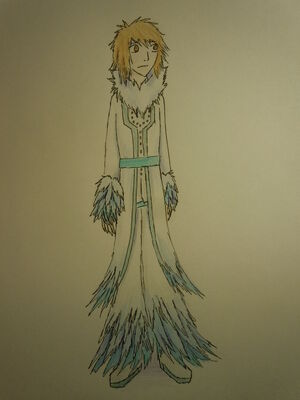 Hello I am Aniju Aura, please to meet you all. I made my own wiki called
The Hunger Games Fanon
and I hope to see some people here there. I probably won't work here much as I only use this site for info for my fan-fiction thatI am writing, but I may edit a few pages with spelling errors if I ever come across any. I hate spelling errors yet I make a lot. I never read The Hunger Games book, heard about it, but I saw the movie with and friend and like it, especially the District 4 boy who died way in the beginning. My heart goes out to you little dude.
My friend gave me a very good summary of the book too filled with "Oh No"s. After seeing the movie I came to realized a short story I was going on was quite similar so I scrapped the idea and simplely morphed it into a fan-fiction, which allowed me to finally name the characters in the story. Now I am working on a fan-fiction called The Dead Games series.
Joint account with FastFoodKnight called Gamer Girlz inwhich all future Hunger Games will be written with.
About Me
I like meerkats. (I am a major meerkat nut!) The majority of my OCs are named after favorite meerkats of mine. All of my Hunger Games characters are named after a meerkat or two.
I am an artist so I like to draw my own charaters, however it seems people here rather use the lunaiies. Down below are the things I have drawn. All my art will be posted on my Artwork blog.
My favorite books are animal related such as Watership Down, Silverwing, Warriors and Call of the Wild. I never actually read the Hunger Game books.
I love Elder Scroll game series especially Skyrim. (Made Katniss on Skyrim) However I started with Elder Scroll IV: Oblivion. I am not much of a Gamer but I also enjoyed Fallout 3, inwhicn my District 12 male Cecil originated from before I moved him to the Hunger Games.
If you ever need to contact me just send a message. I work on other wikis a lot so I am around. Thank you!
The Dead Games
This is my series which follows my Victors, Logan and Enili as well as Gerald(Who isn't a Victor) and other tributes after the Hunger Games.
Its the Victors Tour for the four winners of the 100th Hunger Games, Logan has to help the lost tributes reach peace and discovers a deadly plot to take down his own Nation.
The 101st Hunger Games (Multi-writter Games)
It is the next Hunger Games and Logan's own younger brother Mitch has been reaped. Somehow he must save his brother while helping the dead and save his nation.
Day of the Dead Games (On Hold for the Moment)
After the 121st Hunger Games, Victor Enili has been plagued with nightmares, however she soon learns these dreams are visions of something yet to come.
Slyder has been reaped into the Hunger Games and finds old faces from past Hunger Games. She teams up with Gerald to save as well and bring the down fall of the Nation of Panem.
My Characters
List of characters for fan-fictions and stuff, enjoy!
Silks Cullbert (District 8)
Alonzo Mourning (Distict 10)
Logan Hawkeye (District 13/5)
Clarabella Keen (District 6)
Ella Flashman (District 3)
Enili McGee (District 7)
Lucifer Fingal (District 13)
Cecil Van Helsing (District 12)
Buttercup Keen (District 2)
Pantxo Nequoia (District 11)
Crochet Friskers (District 8)
Gerald Durrell (District 13)
Gin Tonic (District 3)
Josh Rhogan (District 7)
Slyder Crescendo (District 12)
Nabby Hoodwink(Capitol)
Kodiak Flasheart (District 4)
Shiraz Mohandas (District 5)