"Being a hero doesn't mean you're invincible. It just means that you're brave enough to stand up and do what's needed."
-Piper McLean, The Mark of Athena
WAZZUP PEOPLE!
Edit
Beetee19
Age
15
Occupation
Um...person who likes the Hunger Games trilogy?
Home
District 3
Gender
Male
Height
5'11"
Weapon
33" Easton bat(except it has to be freaking BBCOR)
Fate
Alive
Appearances
Wherever I want
Mentioned
By everyone
Portrayed by
Me
Hey. I don't have much to say about myself, really. I'm 15. I enjoy baseball. And I am obsessed with The Hunger Games (duh). I'm guessing you are, too, or you wouldn't be on this site.
GUESS WHO LOVES COLLY THE MOST. KIKI DOES C;
Edit
Hey dad<3 ~Kiki c;

Characters who are awesome:
Katniss, Peeta, Beetee, Cinna, Seneca Crane and his beard, Foxface, Haymitch, Rue, Prim, Thresh, Clove, Plutarch, Caesar, Claudius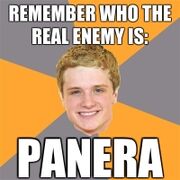 I will stop now because this list is getting really long.
Characters who are okay:
Gale (I Annie not-so-secretly loves him though), the rest of the Careers, Finnick, Annie, Johanna, Wiress, Madge
Characters I can't stand (they don't get hyperlinks because they're annoying):
Snow, Coin, Thread, Effie, Peeta's mom
People who were awesome in the movie:
Stanley Tucci, Amandla Stenberg, Lenny Kravitz, Wes Bentley, Woody Harrelson, Isabelle Fuhrman
My Hunger Games
Edit
Victor: Loomus Graham (District 10, D3T/Happy Meadows)
Victor: Brann Clatch (District 6, Robin040197)
Victors: Artur Soleil (District 3, Deaphalia911); Brianna Hunt (District 5, HeavyRotation); Evelyn Makenna Rae (District 9, Katelyn.danita)
Victors: Harlow Moon (District 3, AxedFox); Luke Searer (District 7, Thena.airice14)
Victors: Elisa Freighter (District 4, ~PopTart~); Down Smith (District 8, Angry birds12)
In progress
Other projects I'm working on
Edit
A result of an...interesting chat I had back in April. I encourage you to check this out.
My Totally Epic Tributes
Edit
See my profile on the Hunger Games Role Playing Wiki for tribute information.
Peoples Who Are Awesome
Edit
This is currently under construction, because it is kind of late right now.
Update it, please? :3 I have my moments... But mostly I fail... (talk) 05:20, April 2, 2013 (UTC)
I WILL TOMORROW...I need to sleep. AGAIN. xD
Then do it when you first come on tomorrow OR I WILL STAB YOU WITH A FORK Julia (talk) 05:07, April 3, 2013 (UTC)
You better add every single detail about me. Like my cuteness and making you take your shirt off. Btw my sig is HU lyrics <3
Good night... Sleep tight... Don't let the dead bite 07:42, April 3, 2013 (UTC)
And add how we are like a thing and how incredibly awesome I am <3 Raineh loves THG series! 21:09, April 3, 2013 (UTC)
OKAY, OKAY, HERE WE GO!
Angry birds12- Jason is, like, super cool. He's a great writer who makes AWESOME tribs, and we're both big supporters of the other's games. Anyways, he's a cool guy.
Annamisasa- Anna is seriously amazing. She is, like, the nicest person in existence (which she somehow does not see -.-) and is a great friend, mod and helper around the wiki! She also has an amazing accent and should really sing on tinychat more often :P. So, basically, Anna, you da bomb.
Aww, thank you Colin :3 Walk through time back to better days. Memories, like dreams wash your tears away (talk) 06:30, April 4, 2013 (UTC)
AxedFox- Bella, Bella, Bella. This girl be crazy, but awesome. She's been one of the biggest supporters of my games for a long time, and for that I thank her. She would like to say that she is meth. You never really know what to expect from her, but we're still great friends, even when she is being a battery. xD
Beautiful Mistake- Jackie...well, let's just say I've SORT OF helped her with the whole soda thing...I don't know if it's working...but whatever. She's a good friend, so I won't be judgemental. :P
Clonefanatic- ASH! Ash is a cool guy to chat with, especially because we can talk about basketball and crap that nobody else on here cares about!  Rock on, bro!
Cloveismywife- An amazing writer who is unfortunately no longer with us. I didn't know him as well as I would have liked to, but he seemed like a great guy, and his games were the best!
EHKnight- Oh, Erlend. I endure your pervish ways and your constant devouring of potatoes because, quite frankly, you're a funny and cool guy. So...keep it up, minus the potatoes. :P
EmpressOreo- Julia is an awesome friend to have and a REALLY good writer. She has seen me at some...interesting times, but she's been cool with it. I am slightly disappointed in her for listening to Dani's music, but I can shake that off, because although I haven't known her that long, she's a really great friend. Also, Julia, would you mind borrowing some of my snow? xD
EvilhariboMadness- Oli is nice, he just needs to stop eating all Rainie's potatoes. Got that?
Happy Meadows- Josh was one of my earliest friends on here. He's an AMAZING writer who also makes awesome tribs, and he's just plain cool.
Hybrid Shadow- Kekai is the silent, mysterious half of Julai who is still very awesome. He likes cats, which is cool. He writes insanely long tributes, but that's okay with me. Apparently I am his hero for making a very epic troll tribute. Uh...thanks, I guess? Yeah! Anyway, he's a Hawaiian menace.
Thanks Colin meh hero. :3 Hey, listen to this! Meow :3 07:09, April 4, 2013 (UTC)
Iluvgale- Annie babe is the super random and wacko admin who's very clumsy and doesn't always think straight, but we love her anyways. She fangirls over an unhealthy amount of stuff. I'm fine with that. Overall, she's just awesome to hang out with as long as she's been kept away from sugar. xD
I of course still think this should be sorted alphabetically by first name, but whatever. And I don't even need sugar to get super hyper. And I think my obsessions are perfectly healthy when you consider the alternatives. I could be setting buildings (or people) on fire instead. Iluvgale"You and I could make it..."
Jabberjay78- His games are possibly the best I've ever read on the wiki and were a large part of why I came here in the first place. He recently came back for one more games!!! (WHICH ARE AWESOME BTW) and he makes amazing tributes as well!
Katelyn.danita- Oh gosh...Katelyn, I don't know how to describe you, honestly. Are you crazy? Yeah, but that's a good thing. Our chats are usually very random and involve a LOT of caps. She's a funny girl with a great personality, and she also has great games and tributes! Katelyn, if you're reading this, GET ON CHAT ALREADY!
KNKHungerGames- Kiki is, like, super nice and awesome. She's ridiculously persistent -.-, but I admire that in her...usually. She's an awesome mod and a great friend to talk with, but for whatever reason she doesn't realize her amazingness. So, Kiki, that's why I'm putting it here, because you are an awesome friend.
Ohey that's my username and my name cx. Thanks Colin<3 (even though It's not ridiculous.. I just get things done... We've been through this -.-) c: Never Stop Dreaming ♥ 03:07, April 5, 2013 (UTC)
Lily!- Lily be crazy sometimes, and I don't really understand her, but she more than makes up for it with her awesomeness and general swag. She's a great girl who would make a great admin! Lily, if you are reading this, just admit that I am sexy already :P
MHMMMMM
I do not have a gentle heart -Daenerys Targaryen
19:29, April 6, 2013 (UTC)
Rainbow Shifter- Jade is le interesting admin who's very good at what she does. Whether it be on chat, in mainspace, or whatever, she's helpful to everybody. She calls me Beetroot, probably because she can. She's also a great writer, and SHE JOINED A DAY BEFORE ME -.-. Y U DO THIS TO ME JADE? xD
Yes I can. And I can also do this: :P Rainbow Shifter 08:15, April 4, 2013 (UTC)
Rainfacestar- RAINIE BABE! Liza is the potato queen, for those of you who don't know. She is also the narwhal princess. She is my darling, and I love her sooooooooooo much! Someday, she is going to pick me up and fly me down to Florida to escape this snow. Until then, I'll be waiting, because OUR WEDDING IS FRIDAY! She's a great friend who I know I can always trust, because we are there for each other. And together, we are Beenie, which, yes, Julia, is the most epic ship on this wiki. LOVE YOU BABE! <3
I LOVE YOU TOO, BABE! And yes, I will fly you down here. Either way, you'll deal with the memory of snow with my sexy... SNOW GLOBE COLLECTION! Wedding in an hour!!!!! Raineh loves THG series! 02:38, April 6, 2013 (UTC)
RawrImmaEatYa- Dani, you're probably going to yell at me for whatever I put here, so I'm just going. You, like Kiki, are stubbornly persistent, which can get annoying. You also listen to music that is kind of weird. Yet you still manage to be an awesome friend. You're fun to talk with (usually) and though I really don't even try to understand you sometimes, we're still very close, because you're cool like that. And no, I have no plans to take off my shirt again. Also, thanks for helping with my sig!
You forgot the part about me being the best mod and being amazingly cute and amazing. Also about me making you love HU c; --> Good night... Sleep tight... Don't let the dead bite 08:07, April 4, 2013 (UTC)
Also, Dani is the best mod and is amazingly cute and amazing. And I do not love HU. Beetee19 (talk) 02:59, April 5, 2013 (UTC)
The Boy With The Pikachu Tattoo- Ryan is an awesome writer and a cool guy to talk with. His tribs are pretty boss as well. He's a great chat mod, and I'm sure he would make a great admin as well!
The Hungarian Games- Zack/Eli/whoever he is is da boss. He's a great mod and a fun guy to chat with. Basically, he's just an awesome guy. He's also Canadian, which is cool.
TheDeadlyOne- Adrian has seemingly been on here forever. Well, not really, but he's been here ever since I started writing games (April of 2012) and he's entered in almost all of them. I thank him for all of his support. He's also a cool guy to talk with on chat!
Tiki Tooki- This guy is an AWESOME writer. I followed his Pinnacle Games (awesome) when I was a wee wikia contrib, and they helped me make the decision to join! If he was reading this, I would tell him to get back on, and then say one more time how awesome it feels to have a victor from his amazing games! Thanks, man!
ViniciusDeAssis1999- Ah, Vinny. Vinny is a cool guy and a great writer. He is also a chat mod who does his job very well despite randomly zoning out a lot :P Anyways, he's a great friend!
Wesolini- Wes is an interesting guy. He's funny to chat with, even when he's being random or pervish. He's also Dutch, which qualifies him as being cool. I don't really understand him, but apparently I don't have to, because he's a cool dude however you look at it.
XxXMidgetInABikiniXxX (I think this is how you spell it, anyways xD)- Emma is a Canadian boss. She likes to zip in and out of chat like a boss, and calls me Tee like a boss. So, obviously, that qualifies her as a boss.
More to come! If I forgot you, then, by all means, TELL ME!
The Lovelace Family Tree (click to enlarge)
Edit

I have a very large family, if you didn't notice :P
Thank you for visiting this awesome profile!
Edit
Some people come into our lives and quickly go. Others stay for a while, make footprints on our hearts, and we are never, ever the same.
Keep being awesome,
Beetee19 (talk) 04:47, April 2, 2013 (UTC)
And though the course may change sometimes, rivers always reach the sea... 23:07, April 13, 2013 (UTC)
Upon us all a little rain must fall... 23:43, May 15, 2013 (UTC)