hi guys! my name is Candy! Im 13. I LOVE the hunger games!
Likes
HUNGER GAMES
HARRY POTTER
unicorns
reading in general
PINK
CUPCAKES
nail polish
my iPad
UNICORNS
Clove
unicorns
5
district 5
clothes*Fluffy stuff
TV
art
jewlery making
ACTING
unicorns
yo gabba gabba
HATES
Twilight
mean people
bullies(dur dur)
DERPDERP
Sports
eating with silverware(LOL, JK)
Dora*Diego
Team Oomi Zoomi
strict teachers
homework
Fire
hot days
sweat
vegtables
frosting
District 3 tribute- really nice, and regulary comments on my blogs
ashtonmoiolover- really nice. great b-day games
violetlovesmeso- one of my best friends from school
Andy1854- He is really really nice, plus I won his games :), with more than one person
mysims- great games
catnipcatniss- funny!
District One Amethyst DeMoir- VICTOR!
17
Career
Volunteered

Strength/weapon- bow and arrow, running, knives
weakness- generosity, twelve year olds
5'11"
In love with Garnet
Backstory- amethyst had always been lovestruck (for garnet). She was spoiled, and popular. Her popularity got her all of the boys, but not garnet. She voluntered for her sister.
token- amethyst gem
games won- Jmcatee's 56th hunger games

Garnet Wilke
District One
Career
Volunteered
Strength/weapon- spear, machete, sword'
Weakness- swimming, friends, love

6'
In love with Amethyst
very hot and muscular
backstory- garnet was always an outcast. and he always loved amethyst but she was popular, he wasn't. when she volunteered for her sister, he volunteered too.
token- an amethyst, to remind him of Amethyst

Emerald (emmy) Firia
WON the Andy1854/The_644th_Hunger_Games
preferred weapon- knives of all sorts
strengths- great liar, smart, stealthy, leadership
weaknesses- too good of a liar, dyslexic
alliance- careers, PLEASE CAREER LEADER
personality- sarcastic, sweet, cocky, sexy
angle- SEXYY!! sweet and sarcastic too
token- emerald bracelet
backstory- Emeralds father worked for the capitol and was 3rd in line for president of panem. Her mom was a wealthy and famous model for the Capitol. Emmy was rich, and her parents were too. Her parents expected a perfect child. Emmy was smart, but FAR far from perfect. Her parents left her on the street when she was twelve, the day after her first reaping. Since then, every year, her parents made the capitol trigger the reaping for her name. For four years, people volunteered. But when she was seventeen, with good knive training and smarts, and leadership skills, no one volunteered
Reaped
appearance- blond straight hair up to her breasts, small breasts, sly emerald green eyes, naturally pink lips, winning smile, skinny, 5'9"

Sapphire Schine
16 years old
district one

Female
alliance- careers, and possibly career leader ;)
token- sapphire necklace, which she will use to activate land mines (other people's, not hers)
personality- has two sides, good and evil. Her good side is bubbly, perky, fun, silly, sexy, and loud! Her evil side is vicious, bloodthirsty, ruthless, and cunning. She will use her good side right until the gong, which triggers her evil side to come through.
weapon- sword, axe, knives
strengths- she can hypnotize people, and charm them, so hypnotysim, deception, and charm, she is very intelligent, the top of her class, and also very flexible and agile
weaknesses- she has the fear of dying, has insonmia, dyslexic, and ADHD
fears- dying, not winning
backstory- She was ALWAYS happy and bubbly with her happy home in district one in her luxurious house with her sweet parents, with straight A+ grades, and a perfect wardrobe. Untill two girls, Opal and Shimmer, started bullying her everyday. One day,while driving her car to school, the two girls attacked her car, and threw Sapphire out of the car, Shimmer drew a diamond out of her designer purse and smashed it on Sapphires head, fracturing her skull, she lay on the floor, pretending to be dead, but spurng up and kicked Shimmer's head. She then grabbed her sapphire necklace and threw it around Opal's neck, and pulled it. She chocked her and fell down. "You two have been bullying me since I was 8, and now I'm 13! Thats five years! You are the reason basically everyone hates me. You have called me a b**** forever. Now its payback. She took a knive and threw it at Opals head, and blood emerged. She was dead. She wasn't bleeding. Shimmer stared in shock, but then smirked. "So?" The two girls had a catfight they were punching, and kicking eachother. But then Shimmer found a sharp rock, and drew a line on Sappire's forehead. It started bleeding. Sapphire's knive was right next to her, and to  Shimmer's surprise, she grabbed it and slit Shimmer's throat. Soon, her parents found her, lying on the floor unconcious. They took her to an ambulance, and saved her. When a twelve year old got reaped, she volunteered. if she could kill them, she could definetely win the games.
Volunteered
5'8"
Interview angle- sexy, sweet, bubbly, confident

District 2
Ivy Willik
preferred weapon- bow and arrows
strengths- Bow and arrows, knives, steath, strategic, smart
weaknesses- hot headed, ad-hd, soft spot for twelve year olds
alliance- careers
appearance- pitch black hair, bright blue eyes, natural bright red lips, sharp chin, sly eyes, pale skin, curvy figure, small breasts, tall at 5 foot 9
personality- mean, vicious, sexy, smart alek
angle- sexy, daring
token- necklace with a black leather cord and the dictrict 2 seal as a charm
backstory- Ivy's parents were the mayor and his wife in district 2. When she was 9, ivy's parents got murdered. Since then, she lived on the streets with another girl, who was an orphan as well. Ivy was usually the leader of the pack. They hid from the peacekeepers for 3 reapings. When Ivy was fourteen, her friend got shot by the peacekeepers and made ivy go to the reapings. She was alone. She met a twelve year old girl on the streets when she was 17, 3 months before the reaping. Ivy loved her like a sister, which made her soft spot for twelve year olds. They went to the reaping. her friend (Metali Stakin) was called and Ivy volunteered.

Cleave Stonewell
15 years old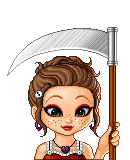 2 female
alliance- careers
token- necklace with graphite stone heart, will use to activate other players' land mines
personality- a lot like clove, sweet but sarcastic, vicious, confident, always ready to spring into action, has a few mental issues which make her over the top violent
weapon- knives, axe, blowgun
strengths- confident, agile, deception, witty
weaknesses- small, loud, has a heart of black(token), mental (look at personality)
height- 5' 0"
angle- sweet but sarcastic, vicious
volunteered
backstory- She grew up training day and night. She and her partner Cenly. Cenly was killed two hunger games ago. Ever since that dreadful day where she lost her boyfriend and only friend, she turned shallow, and used sarcasm. She turned into the bully she was now. She volunteered for the games, and she will do anything to win. For her. For Cenly.
District Four
the following tribute is my favorite!:) <3

Lemonade (Addie) Icyna
14 years old

4 female
weapon- tomahawk, tridents(with or without nets), spear
strengths- stealth, climbing, leadership, swimming!!!!!, running
weaknesses- spiders(scared of them), loud
personality- She make look sweet, and like your average 14 year old, but she is psyco. She is not crazy in that way, but murderous crazy. If you even look at her, she'll give you a glare, slam you into a wall, and say "watch your back". She is ruthless, coldhearted, loud, and crazy.
likes- killing, blood, swimming, weaponry
dislikes- spiders, being scared
backstory- Until she was five, Lemonade was a normal, innocent child. Her parents were in their seaside mansion, in the kitchen, while her father was slicing up some salmon. She climbed up him, grabbed hold of the knife, and stabbed her dad's head. He didn't notice until it was too late. Her mom was backing away from her whispering "don't hurt me, please honey!' but Lemonade was having fun. She jumped up and sliced her mom's face off. The mom fell, and wasn't breathing, and her heart wasn't beating:She was dead. She was taken to the town crazyhouse, citting in a cell alone, but she used her star necklace to dig out of the dirt floors at 13. She lived on the shore until 14, when they called her name. SOmeone volunteered for the innocent looking 14 year old, but she snapped her neck, and said "I am staying as tribute", everyone with their eyes open in shock
Height- 4'10"
CAREER LEADER PLEASE PLEASE PLEASE
alliance- obviously careers
District 5 Cassia Slyara

preferred weapon- stealth, bow and arrow
WON the Andy1854/The_644th_Hunger_Games]]
15 years old
strengths- fast, quiet, agile, smart, stealthy, edible fruits and plants
weaknesses- small, bony, insonmiac (literally CANT sleep)
alliance- no one
appearance- blond curly hair to her diaphram, pale skin, sharp chin, sly grey eyes, bright pink lips (natural), small (5 foot 5)
personality- smart, intellegent, VERY quiet
angle- smart and sweet
token- none
backstory- Cassia had always been an orphan. Her mother died of childbirth, and her father died when her mother was pregnant. She went to an orphaninge in the most dreary part of town when she was 12. Nobody liked her. everyone hated her, so she ran away when she was thirteen and peacekeepers (actually, citizens in costume) took her and put her in district 5's secret training center. The head (mr. statinsk) adopted her when she was 14, because she was the smartest kid in the class. at the reaping, Mr. Statinsk's 12 year old daughter gets reaped (Britta Statinsk) gets reaped, and cassia volunteered
DISTRICT ELEVEN
Edit
Violette Meadow
age 12
district eleven female
weapon:slingshot, Bow and arrow
strengths: agility, hiding, stealth, calmness, photographic memory
weaknesses- VERY VERY VERY bony and skinny, small, scared of blood/death
interview: sweet, cute, polite!
personality- sweet, shy, scared, looks up to any elder
alliance- any other 12, 13, or 14 year old
appearance: 4' 8", pale, brown wavy hair to her breasts, purple eyes, hasn't hit puberty, very cute!
reaped, a 18 year old volunteered, but she declined the offer
backstory: Violette was the youngest of 13 children, the seventh girl. She had a single mother. Violette is very outgoing when little. But especially her 18 year old brother (who was especially close to her), Tassin.Two years ago, he died in the hunger games. When he got third place, killed by both of the district four tributes, turned very shy. When another girl volunteered, she declined the offer, because of her hatred of district four. She vowed to kill the district four tributes.
bloodbath strategy- grab the closest thing to her, RUN
Token- a flower necklace

Velveta Snow
CAPITOL
15 years old
Weapon of Choice- Knives
CAREERS (career leader please)
Strengths- good looks, stealth, leadership, prodigy
Weakness- insonmiac, overly vicious
personality- vicious, sweet, sexy
angle- sexy
backstory- Velvet's father was President Snow's grandson. She was taught to always hate the district, and treat them like idiots. He also trained her for another rebellion. She turned out to be amazing with knives, and was a prodigy. But a peacekeeper shot him, so she was an orphan. A rich family in the capitol adopted her, but only for inside infromation about the capitol. She ran away at age 14, and has lived with a rich Peacekeeper. The peacekeeper's daughter got reaped, so she volunteered.
Volunteered
appearance- lucious, sexy white hair, and deep grey eyes. very attractive and sexy.