Hello! I am Dragon Thinker. You can call me Thinker, DT or D-Thinker or Dragon Thinker.
My Tributes:
Name: Randy Stevens
Age: 18
Personality: Funny, Brave, Talented, Smart
Weapon: Sword
Appearance: 6'2, 123 lbs, African-American, has glasses, a piercing silver-eyed glare and has a small goatee.
Backstory: His mother died in a car crash, and his father ran away. He lived in the District Orphanage then, for 10 grueling years. When he was reaped, he was almost excited because he could get away from the evil orphanage, even if it meant death.
Skills: Strength, Camoflage, plant identification.
Weaknesses: Speed, agility
Strategy: Dodge the Cornucopia, find a few allies, then KILL, KILL, KILL!!
District: 10/11
Token: A medal he won in a arm-wrestling contest.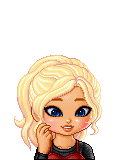 My Victors:
Katherin DeGrane (along with Keron Trey, but I didnt make him)
Games Won: 78th at age 14