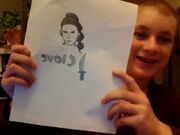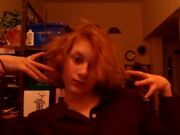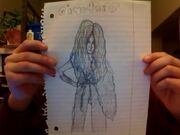 hi! my name is andy! I am so happy to be part of wiki! :) I LOVE THIS WIKIA!!!!!
Tributes: Name: Galina Trebunskovina Age: 14 District: any district that works (prederably 3,4,5,7,8, or 9) Sex: Female Weapon(s): Throwing knives and archery Appearance: Slender and skinny. She has long wavy cascading bright red-orange hair down to her elbows. She has pale skin and deep aquamarine eyes. Personality: Sh is very strong willed. Sh knows her way around very well. Sh is autistic, however, therefore confirming that she has some trouble fitting in correctly and doesn't quite always get the ding perfectly. But she is smart, and clever, and can form VERY elusive and sly schemes. Strategy for bloodbath and after: She does not participate in the bloodbaths, for she knows it is just a temptation and a stupid idea. She is much like Foxface, but is somewhat more powerful and deadlier. Her plans are like Foxface's combined with Johanna's, which is basically evade at all costs unless in danger, then kill. Token: A very special ink pen passed down from her family. Backstory: She had a very sorrowful reaping. Her district partner was her only friend. Her parents hated her so much they forced her into volunteering. Her district partner was in love with her and volunteered as well, but by choice. Galina fell in love with her district partner, Andy, when he confessed his love for her on the train ride. They allied in training and decided to work together to win. Alliances: Andy, her district partner. Strengths: Good swimmer, is sly and sneaky. Weaknesses: Acrophobia, arachnephobia, clumsy.
Name: Andy Jernova Age: 13 Weapons: Throwing knives District: Whatever Galina's district will be. Sex: Male Appearance: Has dyed red hair that falls to his shoulders in small waves. Is very skinny and somewhat short. Has pale skin. Aqua eyes. Personality: He has autism like Galina. He is very sweet and bubbly, but when depressed or overwhelemed he becomes very snarky and snippy and tends to drift away from others. He, too, has autism and he handles it very well. He is still very intelligent and works with Galina as a team. Backstory: He volunteered for his crush, Galina, when she was forced by her own parents into volunteering. Andy expressed his love for Galina on the train and both shared a long, heart warming kiss, and became a couple. In training they decided to ally, and show the judges what they could do. Strategy for the bloodbath and after: Same as Galina's plans. He hides and only kills if need be. He does not participate in the bloodbaths. Token: A binder of notes from friends saying goodbye after his reaping/volunteering. Strengths: Strong swimmer, very elusive and clever. Weaknesses: Clumsy and arachnephobic. Alliances: Galina.

Wiki Friends:
Asfbn
Dannoh403
Katniss&PrimSisterhood
Ashtonmoiolover
UnkyCandy
Lily
Beautiful Mistake
District1Obsessed
Limecube20
Dedejacob
HKTLovesGlimmer
~PoundtheAlarm~
MR.Clove14
AvatarMilly
Thomasb97
Rue111
TeamRue Gaby
Glimmer in the Sunlight
Haalyle
Jsm13athome
Lexi13
Annamisasa

And like, so many more