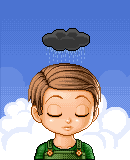 You all can call me KPR, Brian A, Brian, Brainy Boy, Nerd, along those lines (I prefer KPR or Brian A).
Tributes so far
Edit
Name: Brian Anglim
Gender: Male
District: 8/3.
Age: 14
Personality: Grim, pessimist.
Description: See lunaii above.
Height: 5'2
Family:
Jennifer "Jenny". Twin sister. She lost her legs in a freak explosion (later revealed to be sabotage by Samantha Baines; replaced the sand with C4) during an experiment by Brian when they were 5. She uses a wheelchair to move around. (If in 3, it was an electrical accident) Her favorite thing to do is wheelchair race against the other crippled kids (She always wins).
George. Father. Died of HIV/AIDS at age 36.
Vivianna. Mother. Age 42. Works as weaver in 8, or a technician in 3.
Backstory: He and Jenny were originally joined at the hip, and the medical professionals thought surgery would kill Brian. They went along with their parents' consent because George and Vivianna thought that Brian and Jenny would be laughed at if they were joined. After surgery to separate them, they still have their bandages on to prove it. When a friend asks about it, he tells the whole truth. When he and Jenny were 5, (see Jenny section above). He became grim. If 2 per person is allowed, he never learns that Samantha Baines sabotaged it. If only one tribute per person is allowed, he later finds out about Baines' sabotage and strangles her in 8, or electrocutes her in 3. He escapes the authorities and now lives in his mother's shop/factory. He was reaped.
Weapons of choice: Bows, throwing knives, and axes (for throwing)
Skills: Dodging weapons is easy for him, can climb trees easily, deadly accuracy at very long range with prefered weapons.
Weaknesses: ADD, can easily be overpowered, his love and care for Jenny can be used against him, and he has anger issues.
Fear: Never seeing Jenny again.
Training: The gamemakers laugh as he enters, for he has little muscle and little strength to make up for it. He first darts around the room, with styrofoam knives and arrows whizzing past, none hitting. He then fires arrows and throws knives and axes very fast. When the Gamemakers don't seem to care, his face goes red and he uses a knife to send a chandelier crashing down onto the Gamemakers table. He's very accurate with the throwing. He then excuses himself.
Interview: Dip into past. Brian says "It's time to sh-" when the buzzer cuts him off.
Bloodbath strategy: Two words. Out. Skirts.
Token: A locket with a Before and After picture. One with Jenny smiling and standing and another with Jenny in a wheelchair and crying. A smoke cloud is between them to show the explosion. He shows it during the interview.
Alliance?: Yes.