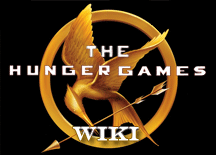 Hey, welcome to The Hunger Games Wiki! Thanks for your contributions, they are appreciated! We are glad you took you time to edit, and hope to be seeing some more of your work in the future.
Just a reminder: on discussion and talk pages, please leave your signature by typing ~~~~ after your message, so we know who left the message. Also, don't forget to create your user page so we can get to know you here on the wiki!
If you are totally new to wiki editing, please visit the FAQ. Also, don't forget to visit the Community Page to leave comments and suggestions!
Please don't hesitate to leave a message on my talk page if you need any help with anything. And once again, welcome!
hi! my name is Jason and i am 14 years old, i live in singapore and LOVE the hunger games! 
jason or it may be something else
if we can't shoot them what should we use? BAD LANGUAGE(best movie quote)
Age
14 in human years and your mobile number whatever it is
Occupation
stalker or a person who eats cake
Home
crazy town a.k.a
Gender
male, duh
Height
5,7
Weapon
evil glare
Fate
thrown into an acid pot by wesley XD and them was killed by a frying pan
Appearances
everywhere but usally under your bed
Mentioned
EVERYONE
Portrayed by
ME!
OH AND I AM MALE TO ALL USERS * whispers axedfox
just some stuff about me
i am not gay, just to let you know 
i accept all people no matter how differant they are, we are all beautiful
i luv anime
ok,this is really hard for me to admit to you all but my name is not Jason , when i first joined i was really shy and i was a 'safe freak' : P. My name is ... Max but i posted it here because i am so ashamed by this and i feel a huge part of guilt when someone says hi Jason but if you see this now plz call me Max : )
my death- RIP me
Edit
i was killed by a frying pan in the user games and was the FIRST to die even though i was totally district 2 XD 
my amazing friends!!!
Edit
Hybrid Shadow- this dude is so cool an funny and he makes the best tributes ever!!!! there are no words to describe how awsome you are!
frostsnake- this user is so kind and cool and she makes amazing tributes
EHKnight- ok, this guy is the funniest person i have ever met in my whole life and he is incredibly cool
pandaassasin- he is cool and funny and he is just so cool!
the hungarian games- Zack is just so awsome and funny
district 1obsessed- she is cool and makes amazing games and is friends with hybrid shadow! XD
rainbow shifter- she and me have had some disagreements but she is SO helpful and i love the fact she is so commited to the wiki!
andy- just awsome!!!
TAP- awsome ADMIN
vinny- she makes amazing games and is always there for you
lily!- we don't usally speak but i think she is amazing and awsome!
and there are like so many more ADD YOURSELF IF YA WANT
Name: Hillary blots
game won- User blog:Mangosadd/The 324th Hunger Games(it was not compleated but he had comfirmd she won)
victor gallery
Edit