Which Hunger Games book is the best?
Where did I meet SlappingSquirrels?
How awesome is SlappingSquirrels?
(PS, the last answer is the right one :D)
Do you like this profile Picture of SlappingSquirrels? (Shown below)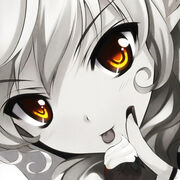 Hello people! This is SlappingSquirrels, but you can just call me Squirrel or Slap, I don't really care. I'm new on the wiki so I haven't contributed much yet, but I plan to!
Please do NOT edit my profile except for in places where it states that you can. It's really annoying, and I know how to figure out who you are! So please, just don't.
Things I Like
Edit
(please feel free to add yourself to this section!)
MovieReviews98- He's an amazing roleplayer and great friend!!
Mysims- He's an awesome writer and great friend as well!
Rainfacestar- She's really nice, fun, sweet, and a great friend!
Polinarose- Shes pretty interesting to Roleplay with
RavenRT- He is really nice and we met on Chat!
AsherMizzou - He is awesome!
Annamisasa - yeh... I added myself... So much fail XD
VDA1999 - I added myself too, BECAUSE YOU FORGOT ME XD
O.O WHY I NO HERE
Doo Doo Doo Doo..... 20:45, December 9, 2012 (UTC)
ShadowStarters- You didn't add me but... That's it really. xD
The Hunger Games, Percy Jackson, Uglies, Savvy, and Warriors
Movies/Shows
Edit
Avatar the last Airbender, The Matrix, The Hunger Games, Jessie, ANT Farm, Kickin' it, The Lorax, Spirited Away, Naussica and the Valley of the Wind, The Sixth Sense, and all of the Disney classics.
Super Bass, Starships, Wild Ones, Chasing the Sun, White Rabbit, Call me Maybe, Forget You, The Motto, Pumped up Kicks, ANYTHING BY MAROON 5 and many others that I really don't feel like naming!
And other stuff TBA!
Edit
My Tributes
Edit
DO NOT STEAL THEM OR I WILL GNAW YOUR HEAD OFF! *coughcough* Thank you.
D1 Female
Edit
Victory Gracelynn

Age
17
Occupation
Career Tribute
Home
District 1
Gender
Female
Height
5"9
Weapon
(See weapon section)
Appearances
SuperTomato's 218th Hunger Games
Portrayed by
Julianne Hough
Name:
Victory Gracelynn
Age: 17
District: 1
Gender: Female
Weapon: She is amazing with pretty much every weapon, as she was trained to use them since she was tiny, but she isn't the best with any weapons she has to aim except for knives.
Skills: She is seductive, flexible, knows how to get what she wants, and is good with people, and really strong for a girl.
Weaknesses: She is terrified of swimming and being underground. It makes her feel weak and without power. She also doesn't have the best aim with anything other then a knife.
Backstory: Victory was raised as a career. She feels as if practicing killing brings out her inner animal, and she loves nothing more then the feeling you get when you're on the hunt. Dispite this fact that she told no one, she is very social and is pretty popular back home in 1. She always had some guy following her around, which she doesn't mind AT ALL.
Personality: She is pretty, seductive and deadly, one of the best combinations for a career. She knows how people's minds work socially, and uses that to her advantage. She's an amazing actress (ex hiding her true intentions), and if she wants to be your friend/girlfriend she knows how to get what she wants. She is nice though (for a Career) and will let people from outlying districts join the Careers, as long as she finds them Useful, Disposable and if the other Careers agree.
Looks: Victory has long, white/blonde hair, light blue eyes, and pretty tanned skin.
Bloodbath Strategy: Run into the Cornucopia and defend all opf the supplies with her Alliance, not letting anyone else take them, and killing anyone who tries.
Alliance: Careers.
D7 Female
Edit
Name: Cherry Hollowcreak
District: 7
Gender: Female
Age: 15
Weapon: Great with long knives, pretty good with an axe
Skills: She is really pretty, she's a good actress (For the showbiz parts of the Games) She's an amazing climber and knows everything there is to know about trees, like which ones have fruit, the safest to climb, etc, and for a girl she's really strong.
Weaknesses: She finds blood and gore extremely gross, which would make killing difficult but not impossible. She doesn't have the best aim in the world, but she can send a knife in your general direction with ease. She can be a bit reckless at times and she has ADD, and she has a mild fear of fires.
Backstory: She was just a normal girl from district 7, going to school, hanging out with her friends, going to work in the lumberyard (or whatever it's called) and hanging out with her boyfriend up until she was reaped
Personality: She's really funny, cute and outgoing to her friends but is cold and mean to anyone that really deserves to be on her bad side. She has lot's of energy and is a flirt.
Looks: She has beautiful wavy red/brown hair, pretty brown eyes and fair skin. 5"4
Bloodbath Strategy: She plans to grab a small packfrom the outskirts, meet up with any allies she has and camp out in the best sheltered place.
Alliance: Anyone from her district.
D8 Female
Edit
Name:
Crimson Gorsmith
Age: 16
District: 8
Gender: Female
Weapon: Knife, Sword, and Bow and Arrow.
Skills: She is amazing with camoflaushe, excellent with a knife, good with a sword (it's heavier then a knife) and ok with a bow and arrow. She is really imitating and is pretty strong, although she prefers to save her strength.
Weaknesses: She's not the best with people, she picks the wrong fights a lot, has horrible aim, is only good with the weapons listed above and hates heights.
Backstory: Crimson is kind of goth because she was raised by a single mother, who only gave birth to her because she had to earn her money as a prostitute. Her mom never really took care of her, so she had to take care of herself, and that made her really gloomy so she became kind of goth.
Personality: She is pretty cold, but if you get to know her she is actually really sweet, but it is pretty hard to get to know her since she is really hostile and closed off. She does enjoy being around people though, she just doesn't know how friendships work.
Looks: Slightly goth, with long, dark, wavy hair, large dark brown, almost black eyes, pink lips and paleish skin, 5"5
Bloodbath Strategy:
Alliance: Maybe the male from her district. If not, none.
D10 Female
Edit
Name:
Indigo Cronin
District: 10
Gender: Female
Age: 15
Weapon: Almost everything, because the other prisoners knew how to use all sorts of weapons. She's best with Knives, Maces, Whips and Guns though.
Skills: She's incredibly strong for being a girl, can get away with almost every crime since she was raised by criminals, she is really smart and flexible and knows how to take -and give- a beating.
Weaknesses: She has a dark secret that if she ever revealed she knows she would be murdered, and I don't exactly count that as a strength. She is claustraphobic because of her time spent in prison and gets mad whenever people do things like try to hug her, since she thinks they'll try and hurt her.
Backstory: She was wrongly accused of killing someone when she was a kid, and sent to jail to serve a life sentence. She was raised mostly in the district prision not by the guards but by the prisoners themselves, and so she knows almost every trick in the book. She didn't kill anyone though, but she did know who did, but the person who did would murder her without a second thought if she ever told anyone that it wasn't her. So she took beatings, lived in terrible conditons, and let the secret haunt her every day of her life
Personality: She was really sweet as a kid, and sometimes still is, but her past changed how she presents bitter and sullen mask. If you get toknow her she'smazingly loyal as long as you're good to her, but if you ever do anything that may make her doubt you're intentions at all she never forgets. Shes adapted to being able to take care of herself, and now she's so used to it that help is almost foreign to her.
Looks: She has wavy brown hair with natural blonde highlights, striking blue eyes and fair skin. 5"3
Bloodbath Strategy: She'll try and grab a weapon and supplies and get out of there, killing anyone who gets in her way, but she'll avoid anyone she sees as a threat and will just run toward the woods if she feels like she's taking too big of a risk.
Alliance: No one unless she can somehow undoubtedly trust them, or she finds them easily disposible.
Name:
Jaxon Keller
Age: 17
District: 11 (Or any other, I don't really care)
Gender: Male
Weapon: Amazing with a Knife, Pretty good with a Sword, and Ok with a Spear.
Skills: Strong, Has fighting experience (fighting with peacekeapers and such), is kind of handsome and is pretty friendly, good at making friends and very, very loyal. He knows when something is too risky, but he isn't overly careful.
Weaknesses: He is pretty shy and very opinonated. He doesn't have the best aim and sleeps a lot. His bitter hatred for the Capitol isn't eactly a strength, and his need for revenge could possibly get in the way of things like survival.
Backstory: He lived in District 11(or whatever district) His whole life. He was really friendly, but even so, he was picked on alot, and whenever he was picked on he felt the need to defend himself and/or his friends, so he got in fights a lot. He wasn't the most popular at school, although since he was kind of handsome and so mysterious, showing up with bruises and such the girls often talked about him. He had a rough life at home, his father always being drunk and raging for no reason and his mother was just... gone, but he got through it, even if there were some days that he had to not sleep at home.
Personality: Jaxon is really funny, has a strong sense of justice, sweet and smart to almost everyone except for bullies. Even if someone he doesn't particularly like is being bullied then he feels the need to stand up for them, because he dislikes all bullies more then anyone. Because of this, he obviously hates the capitol, and dreams of the day when all of the horrors the Capitol forces onto the people of the districts and more reign down onto the horrible people of the world. Even though he has a strong since of Justice, fairness and forgiveness, he also feels a stronge need for revenge, and it is what drives him through the nights when he can't unlock his bedroom door in fear that his father will slit his throat in the middle of the night with shards of glass from a broken beer bottle.
Looks: Short(ish) black hair, fair skin, bright blue eyes and a usualy warm but knowing smile. 6"1(see picture)
Bloodbath Strategy: He'll try to get in and get a pack, but he will just go and find shelter if anything seems too risky.
Alliance: Only his district partner, If not, then none.
D12 Female
Edit
Name:
Echo Lavyathin
Age: 16
District: 12
Gender: Female
Weapon: She's stunning with a knife, but she grew up depending on only her teeth, fingernails and strength so she doesn't nessesarily need a weapon, but having a knife assists her.
Skills: She is amazingly stealthy, is really strong, pretty, she can swim, climb, and run really really well. She is an amazing tracker, and she can (kind of) communicate with wolves, but just barely.
Weaknesses: She's not the best socially, doesn't understand the hunger games a bit but doesn't realize it's the capitol's fault, she only sees the tributes trying to kill her.
Backstory: She was born from a teen pregnancy in District 12, and the mother could barely suppost herself financially, much less a baby, so she was left just beyond the fence all alone. She didn't die off though. Instead, she was raised by wild dogs, who thought that she was one of theirs because when they found her she had been rollng around on the ground for some time, so she was pretty dirty. By the time they found out she was diferent though it didn't matter, because she was strong enough to fend for herself. She learned how to hunt, gather, track etc. from them, but eventually she was abandoned rom the pack, and so she stumbled back to district 12, where she was taken in by the community home at the age of 9 and taught basic english, basic manners and taught all aout the districts, the capitol and the rebellion. She often tried to escape back into the woods, feeling trapped in the community home, but she always either didn't successfully make it out of the building or was dragged back.
Personality: She is pretty confusing, since she was raised by wild dogs she isn't the best socially. She's very fierce, and clings onto her life more then mosy humans can. The thought of peaceful death never crosses her mind, since she finds dying in general a very un-peaceful thing. She doesn'tnessecarily hate the capitol because she doesn't grasp the concept that everything is their fault, but she does hate people that try to hurt her directly, such as the people who run the community home, peacekeepers, and the other tributes.
Looks: She has wavy black hair, fair skin and grey/blue eyes. 5"8
Bloodbath Strategy: She'll run in, try to get a pack and maybe a knife and get out, avoiding everyone. She knows how to do this too, and since she had to run ever since she could walk, she is very, very fast.
Alliance: None, she works alone.
Name: Alto Barran.
(Rest of the info will be added soon! Sorry, I is lazy :P)
Games won: Moviepopcorn123's When we Stop Believeing and Tybomarq's 250th Hunger Games!