Intro Thingie
TheOneandOnlyDistrict3/Jared/TOAOD3
Age
13
Occupation
Writer, reader, geek, nerd
Home
Everywhere and nowhere
Gender
Male
Weapon
Mah awesomeness
Fate
Alive
Appearances
In your bedroom as you dream
Mentioned
BY EVERY SINGLE PERSON EVER
Portrayed by
Me

CHAT Join the Chat
Hey, everyone! In case you couldn't tell, I'm a District 3 Fan! I'm a teen. My favorite tributes are (in order-- greatest to least)...
Heh, I was just thinking... Could you imagine ME in the Hunger Games...? I'd probably flee the Cornucopia and ram into a tree and have a seizure and die. Cuz' that's just me. Or, if I did make it, I might be a Foxface. Then I'd eat nightlock. Then I'd die. Fuuuun.
PICTURES OF TRIBUTES!!!!!!!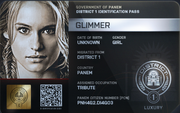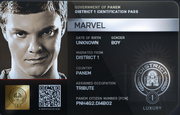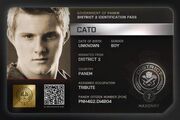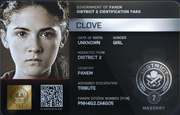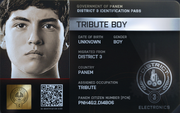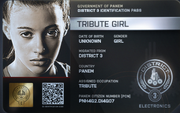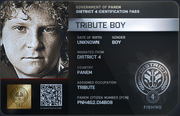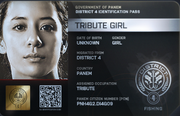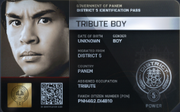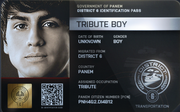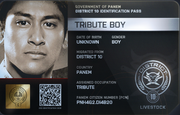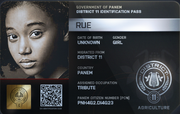 Yeah. I just spent a half an hour uploading these, so YOU BETTER LIKE THEM!!!!
Tributes
Edit
Here's some tributes to use if you want to in your sim!
Name: Yumi Kishatata
District: 3
Gender: Female
Age: 16
Weapon: Throwing Knives
Strategy: Try to hide and avoid violence unless necessary
Personality: Yumi is extremely smart and shy, but she's a very kind person

Strengths: Fast, sneaky
Weaknesses: Not strong, cowardly
Appearance: In case you couldn't tell, she's Japanese, but she doesn't know it, since I don't really think Panem citizens know of Japan.
Allies: Anyone non-Career
Name: DeLauren Howe
Age: 15
District: 3
Height: 5'4
Weight: 80 lbs.
Appearance: Skinny, long black hair, green eyes
Weapons: Spear, intelligence
Strengths: Intelligent, good with spear, fast
Weaknesses: Not physically strong, bad swimmer, bad in panic situations
Planned Alliance: DeLauren works alone
Bloodbath Strategy: Avoid it entirely and run away
Name: Persephone Barias
Age: 14
District: 5
Gender: Female
Skills: Good fighter, fast
Weaknesses: Not trusting, scared of spiders, thunder/lightning, open spaces
Weapons: Throwing Knives
Token: A butterfly necklace her mother gave her
Other: Her mom gave her her name because she is a member of a secret group of historians who read ancient books: her mom specialized in Greek Mythology.
Allies: No.
Personality: Snobby, know-it-all
Appearance:(please do a Lunaii) She has heterochromia (one blue eye, one olive eye.)
Reaping: She was terrified, but knew she had to do it to get back to her mother, father, and sibling, Athena.
Name: Annabel Welsburg
District: 9
Age: 14
Gender: Female
Weapons: Stealth
Personality: Nice but very sh

y
Skills: Fast, intelligent
Weakness: Bad with all weapons, not strong
Volunteered or Reaped: Reaped
Appearance: Look at the pic.
Name: Annamarie Harrison
District: 12
Appearance: Red hair, grey Seam eyes, 5'9
Age: 17
Gender: Female
Skills: Good at thinking things out, good with a whip, sneaky
Weakness: Physically weak, not physically fast, not good at scaling trees
Personality: Friendly, shy
Token: A golden necklace that her parents had to save up for 10 years to give her.
Strategy: Not make alliances, pull a Foxface: be sneaky, sly, and a thief
Background: Lives in the Seam with her mom, Sophie, 52 dad, Brian, 54, and sister, Ella, 19
Awesome People (feel free to put ya'll's name on ze list!)
Edit
ME! Yes, that's it: TheOneandOnlyDistrict3! Cuz I iz amazingz.
AshtonMoioLover, mostly because she always replies to what I post, and is always so nice!
Justafox, because he always helps me out, which is nice, since I'm inept at life. Including technology.
Rueforever / Rue district11 , because she always seems to be in a good mood, and she always replies to my posts, too! And she made me an Admin on her Wiki. :P
Brynn1999, because she's also in 7th Grade and she entered my Sim. But mostly because she also is in 7th Grade. (Thx!!!! I'm Happy 2 be here, But seriously, UR TOTALLY AWESOME!!! BRYNN ☄ NEVER REFLECT ON THE PAST. . . ツ 23:36, June 14, 2012 (UTC)) (Oh, thanks! You're awesome, too. :P -TOAOD3)
NerdDFTBA, because she's in 7th and reads Divergent, too.
Cbuscrew344, cuz they're nice.
Catnipkatniss, just because she seems so nice.
Mysims, because he's actually another TEENAGED MALE, LIKE ME which there are so few of on here.
FinnickForever, because she also likes Divergent and she made me an Admin on her Wiki, too. :P
Dannoh403, because he's my age and also loves Frasier.
Ms.finnickodair, just cuz she seems nice.
Sassygirl956, I just met her on Chat, but she seems nice.
Thresh is Fresh and District4forever444 are also nice people I met on Chat. :P
AdaPayne, because she entered, like, 5 people into my one sim. :P
Katelyn.danita, because she saw the oppurtunity to be awesome on this page and she's sees a lot of comments about 7th Grade, and it makes her proud to say she's older in 8th Grade(; (Yay! Someone actually put their name on this page! :P -TheOneandOnlyDistrict3)
Finnickistheawesomone, cause he thinks Foxface is beast too (Oh! Another person put there name on the epic list of epicness. :P -TOAOD3)
Son of a Trident, cause i am also a teenage male and (Gosh, one person puts their name on and suddenly everyone is! -TOAOD3
AnnieCresta4, because she's nice and enjoys my games and smexy unicorns as well! (Yay! :P)
Cbuscrew344 , Nice person that is in my new Games, I won his games
Tammydaisy, she's a nice person on Chat.
Roboticking45, who is also a nice person on Chat.
Aria Camelliston, nice person from Chat. I KNOW HER SECRET. I think most other people do, too, though. xD
Scarlett123, also nice person from Chat. :P
The hungery games, because they seem nice. :P
DBD Abyss, cuz he is a brony. xD
TSCovergirl3, cuz she is a pegasister who showed me an... Uh, funneh MLP fan video. xD
Lily!, cuz she is awesome. xD
(Yeah, because I'm a boss and the oldest here so far.xD Unless you are older than me....:/ ~Katelyn!:D) (I'm not older than you. I'm 13. :P And since you're in 8th, you're probably 14. :P -TOAOD3)
If any of you have read the Delirium series by Lauren Oliver, then you'll LOVE my Wiki! JOIN. NAOW. :P
http://deliriumtrilogy.wikia.com/wiki/Delirium_Trilogy_Wiki
And, the POKEMON CONQUEST WIKI!!! Lol. I'm SUCH a nerd. http://pokemonconquest.wikia.com/wiki/Pokemon_Conquest_Wiki
A Wiki... ABOUT MEH!
http://theoneandonlydistrict3.wikia.com/wiki/TheOneandOnlyDistrict3_Wiki
Chemical Gardens
http://chemicalgardens.wikia.com/wiki/Chemical_Gardens_Wiki
My Little Pony Fanon
http://mlpfanon.wikia.com/wiki/MLP_Fanon_Wiki
Rune Factory 3
http://rfactory3.wikia.com/wiki/Rune_Factory_3_Wiki
My Victors
Edit
Alexandra Bellia is the co-victor of the Hatfield and McCoy Games. (Created by Cbuscrew344) (Co-victor is Aria Camelliston, created by Katelyn.danita)
Victors of My Games
Edit
3rd -- Kopesh Taylors
2nd -- Lauren Hill
1st -- Savannah Fuhrman
Not Decided -- Still in sign-ups.
R.I.P. Characters (You can add your fave deceased characters from things, too)
Edit
Yeah. These are just characters that I loved who ended up dead. :(
You can add characters, too. From any books or shows.
District 3 Girl (THG)
Lavender Brown (Harry Potter)
Sirius Black (Harry Potter)
Sara (Starters)
Marlene (Divergent)
Lavinia Swire (Downton Abbey)
William Mason (Downton Abbey)
Boromir (LOTR)
~*~*~*~*~Cato (THG) ~*~*~*~*
Jack Dawson (Titanic)
My Interests (Like You Care)
Edit
Downton Abbey
Edit
Oh, I love Downton! It's so dramatic and awesome! xD
Total Drama
Edit
1 word -- LOVE.
My Little Pony
Edit
Brony til the end! Go Pinkie Pie!
Scooby-Doo
Edit
Aww, I LOVE Scooby! So many childhood memories! <3
I like Pokemon a lot too.
Code Lyoko
Edit
Memories! I used to watch that ALL. THE. TIME.
Totally Spies
Edit
Same as above.
AMAZING!
Divergent
Edit
Awww... Tris and Four!
Tayor and Sam. It must happen. He can still marry a reptile. Well, she was a human once.