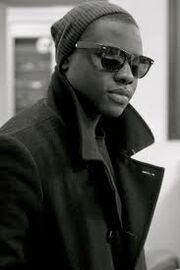 Hi, I'm Thresh45. I am sorta obsessed with the hunger game. By the way THRESH IS AWESOME!!!!! (you might have noticed by my user name that THRESH IS AWESOME!)
My tributes:
Edit
District 1:
Edit
Name: James Shinestene
Age: 16
Weapon: Throwing Knives, Spear Personality: Cunning, slightly annoying but he has a fun side that he only shows to close friends
Backstory: Has been training for the games illegally since he was 10. His mother and Father are both past victors and they expect him to win his games when the time comes. They have taught him to be a merciless killer but sometimes his parents aren't great people... but then they change his mind when he has to drop and do 1000.
Physical Features: Tall, around 6'2, slow runner but very strong and muscular from years of training.
Alliances: career
Name: Nikole Glint
Age: 17
Weapon: Spear
Personality: Very friendly and loves people who are friendly back. She can't stand people who are full of themselves and is completely content with losing
Backstory: Mother died in the games as a career and her father has been training her for the games because he never got a chance to go. She has become an expert with a spear and her best friend was Glimmer.
Physical Features: 5'8 long brown hair tied back in a pony tail. Very pretty and Dark blue eyes that make you think she is seeing into you.
Alliances: Career
District 2:
Edit
Name: Brandon Marble
Age: 18
Weapon: Sword, Axe
Personality: Very likable but he doesnt trust others and is always suspicious, he doesn't understand people who are afraid or sad to go into the games.
Backstory: Has been training with his mother Lyme since childhood and has always felt at home with a weapon in hand due to the extreme Physical Regimin his mother has him in.
Physical Features: 6'7 Dirty Blonde hair in a buzz cut tightly muscled and electric blue eyes
Alliances: Career
Name: Melanie ackson
Age: 15
Weapon: Machete
Personality: Hard to like and easy to hate. She doesn't make friends easily but when she does you can count on her to be loyal (until she decapitates you).
Backstory: Lives on her own (secretly). Her Best Friend who is 20 poses as her father when it's necesary. The rest of her time she trains, trains, and... Knits? Her mother died in childbirth and her father died in a mine cave in in the nut.
Physical Features: 5'6 Blonde Hair in a bun with Green-yellow eyes almost like a cat. She is a very fast runner but she is not very built muscle wise.
Alliances: Career
District 3:
Edit
Name: Danny Korde
Age: 17
Weapon: Electricution
Personality: Annoying and disrespectful yet extremely intelligient.
Backstory: Completely un-trained for the games he is reaped by sheer bad luck and is very un-prepared. His mom is an electrition in the capitol and his dad works in a television factory in 3. He has 6 younger siblings and 2 older (one is eligible but doesn't volenteer).
Physical Features: Frail with basically zero muscle and pale from all the time he spends inside infronyt of electronics. He is about 5'5 and 150 pounds.
Alliances: None
Name: Elektra May
Age: 14
Weapon: None
Personality: Funny but shy and a slightly evil side.
Backstory: She was raised in a shed with just a small light and a bunch of electronic scraps for entertainment and has only her older brother (27) as her guardian. Her brother has wanted to leave her and start his own family for years but he can't bring himself to leave her.
Physical Features: 5'2 but very fit for some odd reason. A fast runner but she doesn't know it because she's never run a day in her life. She has short black hair down to her shoulders.
Aliances: District 7