Dear Cato, the star-crossed lover I never had.<3
I wish I was never mean to you in the games. I go back to December all the time and I think about when I lost you. You may not have shown it, but on the inside, I knew you were innocent. I remember our song that we'd sing in the forest as I rested my head on your arm. The story of us has yet to be written, and I wish that would change. Our love story was sweet and I could feel the sparks fly when we were together. I remember our first kiss, but I never thought that it would also be our last kiss. I kept my eyes open and I did my best to keep you safe and sound. Being a career made me feel a lot more fearless when you were around. I can't breathe whenever I think about your death. On the outside, I can hide my feelings. But whenever I play that song that we loved, there are teardrops on my guitar as I cry at the thought of living without you beside me. I doubt I'd ever be able to find anyone crazier than you, but also as cold as you. I will never find a place in this world without someone like you around to make me feel in place. Our last days together were enchanted, and now my life is haunted since you're not laying beside me. I had eyed you out when we were just fifteen, but today, you'd be turning nineteen. I will do my best to stay beautiful as I'm laying here dying. The best day of my life was being able to meet you, and it plays through my mind during my last moments. I was expecting today to be a fairytale and you to come rescue me on your white horse, but things are different. But Superman can't even take what's ours, Cato. I could never grow up without having someone like you as my partner. You're the best thing that's ever been mine. I will love you forever and always, as I speak now, my last words.
Love, Glimmer, your star-crossed lover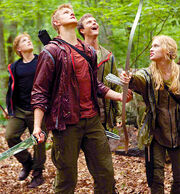 Ad blocker interference detected!
Wikia is a free-to-use site that makes money from advertising. We have a modified experience for viewers using ad blockers

Wikia is not accessible if you've made further modifications. Remove the custom ad blocker rule(s) and the page will load as expected.