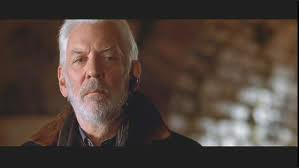 The nation of Panem has a new ruler.
Lionsgate announced in a press release that Donald Sutherland has been cast as President Snow in the film adaptation of The Hunger Games.
This seems like another great bit of casting. Sutherland is known for playing mysterious, often malevolent characters and he fits the book's description of the character as thin and unassuming. He will surely be a strong presence for lead actors Jennifer Lawrence and Josh Hutcherson to contend with.
What do you think, will Donald Sutherland make a good President Snow? Let us know!
External Links
Ad blocker interference detected!
Wikia is a free-to-use site that makes money from advertising. We have a modified experience for viewers using ad blockers

Wikia is not accessible if you've made further modifications. Remove the custom ad blocker rule(s) and the page will load as expected.