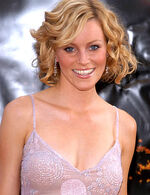 So it's all over the entertainment rags today- Elizabeth Banks is officially in negotiations with Lions Gate Studios to play Effie Trinket. She would be joining the stellar cast of Jennifer Lawrence as Katniss Everdeen and Liam Hemsworth as Peeta Mellark, the two characters that Effie mentors as their District 12 escort.
Effie is a glitzy, pink-haired showbiz type looking to move up to a richer District, but has a change of heart when she develops genuine feelings for Katniss and Peeta. In our Top 10 Actresses for Effie Trinket, Kristen Chenowith was voted the number 1 fan choice for the role. Elizabeth wasn't on the list, but she brings a lot of spunk to her roles and some cache to the cast, so it should be a win win for fans and the film. What do you think?
References
Source: HollywoodReporter
Ad blocker interference detected!
Wikia is a free-to-use site that makes money from advertising. We have a modified experience for viewers using ad blockers

Wikia is not accessible if you've made further modifications. Remove the custom ad blocker rule(s) and the page will load as expected.