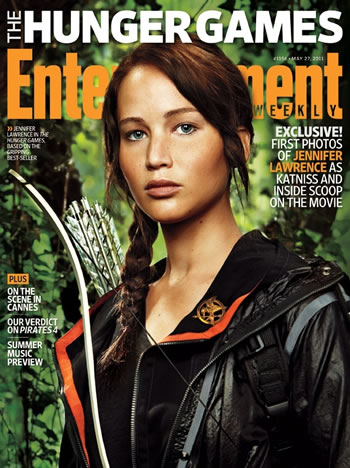 The Insider has just reported that the first photo of Jennifer Lawrence as Katniss Everdeen in the highly anticipated 'The Hunger Games' film has been released- on the cover of Entertainment Weekly no less.
When it was first announced that Jennifer would be playing the intrepid female heroine alongside Josh Hutcherson as love interest Peeta Mellark, we asked everybody in a poll what their reaction was. Out of 257 votes, 9.5% said they thought she was perfect and 63% said she was not their first choice but could live with it, and 28% said she was too old.
Given this new photo of the natural blond now brunette, steely-eyed, and armed with the character's signature bow and arrow, I'm wondering whether folks aren't starting to warm to the choice of the Oscar-nominated actress. She certainly is taking the role seriously- she mentions in the EW article that she's been preparing for the role with a grueling training program consisting of archery, track work, stunt drills and yoga. Tributes and Tracker Jackers beware.
And after some initial hesitation on her part about accepting the role, it sounds like mentally she's fully committed herself. As she told Entertainment Weekly, "Listen, I know from the bottom of my heart that I love Katniss. I love her. It's kind of like when you have a huge crush on somebody, and it's almost scary because you don't want to mess it up and have it not be everything you hope it will be. That's exactly what I feel about this. I'm terrified. Is it going to be good enough? Am I going to be good enough?"
So given the new look and the evidence that Jennifer fully plans on kicking some butt on behalf of Prim and District 12, what does everyone think of her now?
Time to re-vote!
<poll> Has Jennifer Lawrence become Katniss Everdeen? Yes, but I never doubted her She has really transformed and I'm now excited I won't be convinced till I see the movie </poll>
References
Source: theinsider.com
Ad blocker interference detected!
Wikia is a free-to-use site that makes money from advertising. We have a modified experience for viewers using ad blockers

Wikia is not accessible if you've made further modifications. Remove the custom ad blocker rule(s) and the page will load as expected.