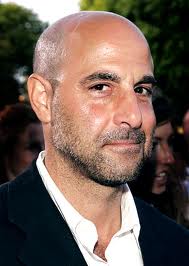 Stanley Tucci has closed a deal to join the Lionsgate's movie adaptation of The Hunger Games.
The actor, who can be seen in the upcoming Captain America, has been cast in the role of Caesar Flickerman, the iconic host of the Hunger Games. In the Suzanne Collins' novel, Caesar -- known for his "outrageous appearance and buoyant personality" -- interviews the 24 tributes, which are televised for the nation to see.
Last weeks casting news included Wes Bentley to play and newcomers
Be on the lookout for the casting of: tributes Cato and Clove, Haymitch, Cinna and President Snow, among others.
Hunger Games, to be directed by Gary Ross from a script by Billy Ray, is slated for release less than a year from now: March 23, 2012.
References
Source: hollywoodreporter.com
Ad blocker interference detected!
Wikia is a free-to-use site that makes money from advertising. We have a modified experience for viewers using ad blockers

Wikia is not accessible if you've made further modifications. Remove the custom ad blocker rule(s) and the page will load as expected.