Ad blocker interference detected!
Wikia is a free-to-use site that makes money from advertising. We have a modified experience for viewers using ad blockers

Wikia is not accessible if you've made further modifications. Remove the custom ad blocker rule(s) and the page will load as expected.
Tributes
Jewel Creme (1)
Smooth Roll (1)
Lana Charge (2)
Grit Snarl (2)
Electronica Shock (3)
Plani Sphere (3)
Wash Shore (4)
Tidal Wave (4)
Krista Doodle (5)
Ty Linman (5)
Cali Stuck (6)
Toot Locomotive (6)
Climb Oaksy (7)
Chop Lu (7)
Satin Trill (8)
Sammy Stitch (8)
The Arena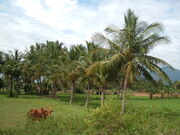 Looks like a Hawaiian Paridice...not! Coconut milk is too sweet here, that animal can take out your tributes in a second, and watch out for that vocano!
The Bloodbath
I lock eyes with Smooth just before the gong goes off. His eyes are the same color, but something is different about him. I see him mouth my name when we hear it. This is when I know that it's over.