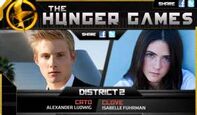 &nbsp
Is it just me but I LOVE Cato and Clove
Out of tributes from districts other than 12 its #2 (after district 11 (thresh and rue of course))
Here are the reasons why...
1. THEY HAVE GREAT FIGHTING SKILLS/ APPROCHS
2. THEYRE CAREERS
3. AND THEYRE JUST AWESOME
My explainations for this is easy. For 1 they fight fight fight. They stay in groups and nev
r back down. At the end of book 1 Cato was as good as dead risen above evil wolf Muttations. He was on top of the cornicopia against 2 almost perfecty healthy tributes. He never gave up. He picked Peeta up in a headlock smartly and tod Katniss Everdeen to try and shoot. Also Cato can admit defeat. At the end of book 1 he was taken by the muttations. He didn't fight he let go and asked Katniss to kill him. And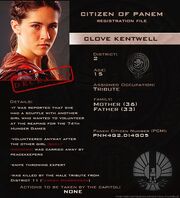 onto Clove. She doesnt stop fighting. At the feast where she died she wouldn't leave. She found her bag and she found Katniss. She didnt run off she tried to kill her. She threw a knife at her which cut her in the head and then clove got cut in the lip. Then even though Thresh killed her it didnt happen without a fight.
NOW EVERYBODY U CAN SEE WHY CATO AND CLOVE (DISTRICT 2) R-O-C-K-S !!!!!
Sign your name at the end (by editing) if you agree
~Matthew Ricupero (Threshandrue4eva)