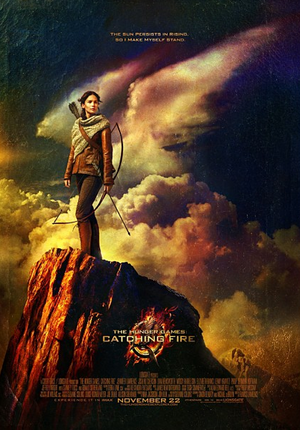 Here's some more cool The Hunger Games: Catching Fire news, tributes! Lionsgate is planning on collaborating with NET-A-PORTER, the world's premier online luxury fashion and beauty retailer, for an exclusive fashion partnership involving The Hunger Games: Catching Fire!
The luxury clothing line is going to be called "Capitol Couture by Trish Summerville," and it will have 16 ready-to-wear pieces as well as jewelry and leather goods inspired by "The Hunger Games: Catching Fire" and designed by the film's Costume Designer herself! The collection will be available EXCLUSIVELY on NET-A-PORTER this fall in time for the Catching Fire's worldwide release on November 22, 2013!
Summerville says, "I am extremely proud of the designs that we created for 'The Hunger Games: Catching Fire' and there's no partner more appropriate for 'Capitol Couture' than the world's most cutting-edge luxury retailer. I can't wait to share it with the public through this exclusive partnership with Lionsgate and NET-A-PORTER."
Holli Rogers, Fashion Director for NET-A-PORTER.COM, also announced, "Our customers take their style cues from myriad sources, from the latest runway shows and street trends to TV and film. Fashion plays an important role in 'The Hunger Games' series and is especially prevalent in 'Catching Fire', and fans of the franchise will see the film reference in the collection."
We all know that fashion is a huge part of the Hunger Games world, especially in The Capitol, so it'll be exciting to see what this collection looks like! Will you be checking this collection out??
---
---
Ad blocker interference detected!
Wikia is a free-to-use site that makes money from advertising. We have a modified experience for viewers using ad blockers

Wikia is not accessible if you've made further modifications. Remove the custom ad blocker rule(s) and the page will load as expected.