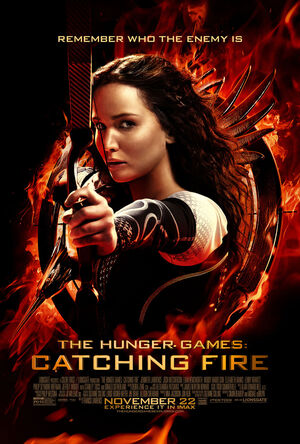 Advanced tickets to The Hunger Games: Catching Fire, released track listing for the movie soundtrack, and now we have the final movie poster featuring Jennifer Lawrence as Katniss Everdeen!! We're loving the intense look on her face as she aims an arrow at us/President Coriolanus Snow/whoever she's looking at!
Also, the catchphrase "Remember who the enemy is" is SO OMINOUS!! What do you think of this final poster, tributes? We think it's a great one to showcase the danger that Katniss has to face in Catching Fire!
So tell us what you think about the poster below, and keep the countdown going until this movie is finally out!!
Source: ComingSoon.net
<poll> What do you think of the final poster? I LOVE IT! It's alright... Booo, they should have done something different for the last one! </poll>
---
---
Ad blocker interference detected!
Wikia is a free-to-use site that makes money from advertising. We have a modified experience for viewers using ad blockers

Wikia is not accessible if you've made further modifications. Remove the custom ad blocker rule(s) and the page will load as expected.