There's about a month left until The Hunger Games: Mockingjay - Part 1 and our bodies are ready. If you're still hungry for more Mockingjay, Google is here to help! Lionsgate is apparently teaming up with Google to introduce DISTRICT VOICES, the latest campaign in Google's Art, Copy & Code project to promote The Hunger Games: Mockingjay – Part 1.
"District Voices" is a five episode series on YouTube that brings Panem, the fictional world of The Hunger Games, to life through videos featuring popular YouTube creators. Each episode of the series was created with a different creator whose channel content aligns with a specific industry from one of the districts of Panem. The videos are supposed to provide a window into an expanded world of The Hunger Games and will deliver original content to the passionate fan bases of both the films and the individual YouTube creators! These videos will also be presented as programming from CAPITOL TV, the government-sanctioned television network of The Hunger Games.
Check out the trailer below: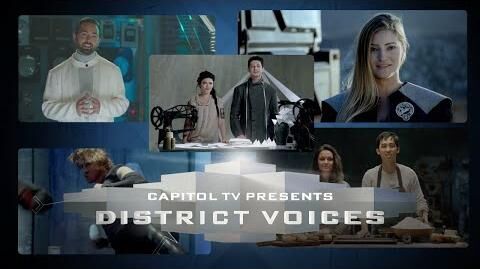 Check out the schedule for the videos! The first one actually launches today!
Monday, October 20 - District 8: Rob Czar & Corinne Leigh, co-helmers of the 'Threadbanger' YouTube channel, show how to best make use of excess Peacekeeper armor.
Tuesday, October 21 - District 2: Shane Fazen, of the 'fightTIPS' YouTube channel, showcases the training and techniques required to be a Peacekeeper in Panem.
Wednesday, October 22 - District 5: Derek Muller, known for the mind-blowing experiments and scientific discussions on his YouTube channel 'Veritasium', demonstrates new ways in which the Capitol may generate its electricity in the future.
Thursday, October 23 - District 9: Jimmy Wong & Ashley Adams, best known for their 'Feast of Fiction' YouTube channel, demonstrate baking techniques from Panem's Grain District.
Friday, October 24 - District 6: iJustine's Justine Ezarik, gives a glimpse at the driving force that proudly supports the transportation needs of Panem's vaunted Peacekeepers.
---
---
Ad blocker interference detected!
Wikia is a free-to-use site that makes money from advertising. We have a modified experience for viewers using ad blockers

Wikia is not accessible if you've made further modifications. Remove the custom ad blocker rule(s) and the page will load as expected.