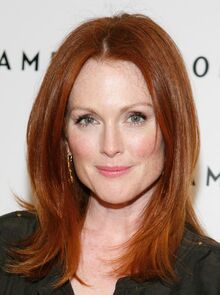 The Hunger Games: Catching Fire isn't even out yet, but The Hunger Games: Mockingjay is already set to start filming in the fall! Even more interesting is that Lionsgate and director Francis Lawrence might already have their sights set on someone for the important role of President Alma Coin from District 13! According to Deadline, the two think Julianne Moore might be a good choice for the sly leader.
Moore has had a lot of big roles lately in things like Carrie and Game Change, but it would be interesting to see her play a villain and we could see her doing a good job! Since Mockingjay is set to premiere as two films, Moore would have a pretty big role in both. What do you think of this possible choice for Coin? Sound off in the comments below!
Source: Deadline
<poll> What do you think of Julianne Moore as possibly playing President Coin? She's great! It would be a cool choice! I don't know... No way! There are plenty of other people I can think of that would be perfect! </poll>
---
---
Ad blocker interference detected!
Wikia is a free-to-use site that makes money from advertising. We have a modified experience for viewers using ad blockers

Wikia is not accessible if you've made further modifications. Remove the custom ad blocker rule(s) and the page will load as expected.