The Hunger Games: Mockingjay - Part 1 trailer came out a few days ago and proceeded to destroy us with the majesty that is Katniss Everdeen and District 13. We got Peeta and Johanna in early teasers so we weren't too surprised that they didn't show up in the trailer, but we did notice that the Capitol was missing! This made us wonder what exactly is going to happen in Part 1 and what things they might save for Part 2. With that in mind, keep scrolling for a trailer breakdown. Watch the teaser trailer one more time:
Please note, all these gifs come from Tumblr and are not made or owned by us. Props to the creators!
1. Where's this airship headed? Are we getting our first look at District 13 from above or is this when Katniss heads to District 8 for some propaganda filming?

2. War!!! This teaser was filled with violence from peacekeepers against the people of Panem, so we think that the film will go more into the aspects of war in Panem than the book did.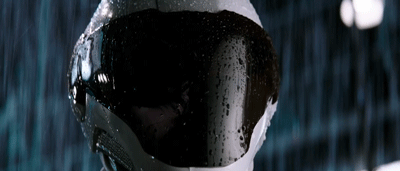 3. Into the trees! Rebellion is spreading so this is maybe District 11 where the people have orchards and whatnot. It is also where Rue was from and we all know she was pretty good at climbing trees! Then again, it could be the lumber district (District 7).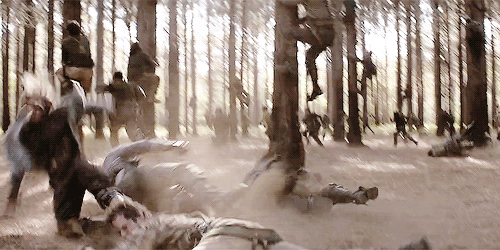 4. Panic! We see a bunch of people running around as Katniss is staring down. Maybe this is when people have to evacuate to the bunkers? That might also mean Katniss is trying to find Prim!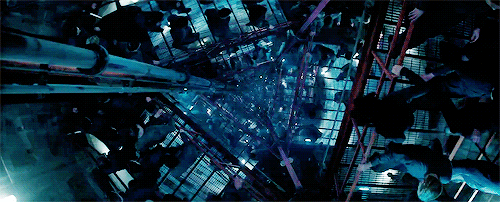 5. Natalie Dormer as Cressida! We already know that Cressida will have a bigger role in the movies than she does in the book so we're excited to see how Dormer does!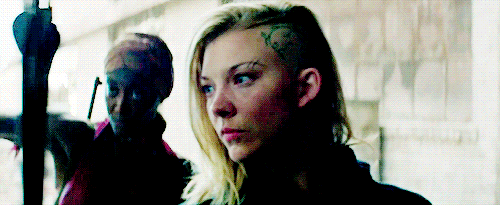 6. Katniss walking amongst injured people in battle gear. We're guessing this is when she is with Gale at the hospital to film a propos! This would make some sense since the trailer also showed an explosion near them. Also, note the colors on her arrows. Are these the fancy new ones Beetee made for her?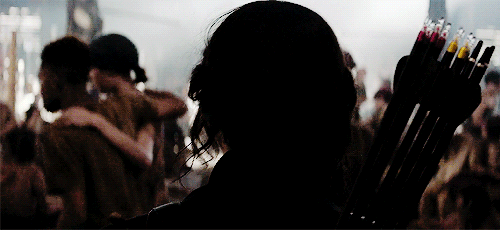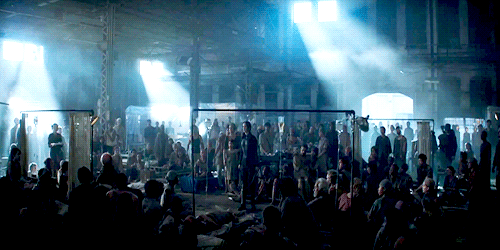 These are just a few of the things that caught our eye when we watching the teaser trailer, and we can't forget that Mockingjay symbol in the fields! We were missing Finnick, Peeta, Johanna, Haymitch, and a few other characters but we're sure they'll pop up in later trailers. Based on this 57 second teaser trailer, what are things that YOU noticed??
It seems like the most logical division point would be to stop Part 1 before they reach the Capitol, but then where does this leave Peeta? Maybe Part 1 will end with Katniss seeing him again and then a slow black fade out... Or maybe Peeta will be saved for Part 2! Meanwhile, we're still waiting for some Annie Cresta! We also can't wait to see President Coin's interactions with Katniss since the tension between them is pretty obvious in the book.
What would be REALLY cool is if the studio got creative and added some scenes from Peeta and Johanna's perspective when they're held in the Capitol. That's not part of the book at all, BUT it would be interesting and, let's be honest, we want some more Peeta and Johanna anyway!
So start sharing your own speculations and predictions below! Where will Part 1 end? Will we see Peeta and Johanna saved? All we know is that the end is coming too fast for this franchise!
---
---
Ad blocker interference detected!
Wikia is a free-to-use site that makes money from advertising. We have a modified experience for viewers using ad blockers

Wikia is not accessible if you've made further modifications. Remove the custom ad blocker rule(s) and the page will load as expected.