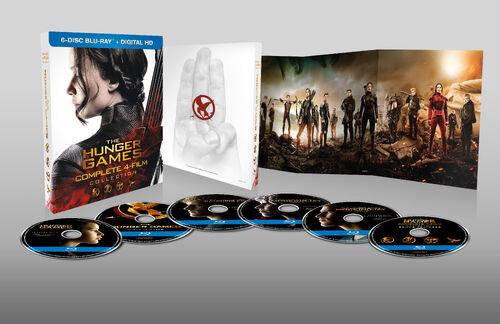 We posted a few weeks ago about attending The Hunger Games exhibition in San Francisco, but what we didn't tell you was that we went to a little Mockingjay Part 2 DVD party too! Lionsgate hosted an amazing Hunger Games-themed event with delicious hors d'oeuvres, makeup artists, and a manicurist to help attendees celebrate properly.

There were even small touches like vases filled with white roses a la President Snow!
As you can see, Willow Shields (Primrose Everdeen) and Elden Henson (Pollux) were there for a brief press event too! Highlights: they're both going to miss the franchise, Willow thinks Jennifer Lawrence is a great role model, and Elden felt weird going from a non-speaking role to Netflix's Daredevil where he has to speak a lot.
The Hunger Games: Mockingjay Part 2 is out on digital HD on March 8 and the Blu-ray Combo Pack is out on March 22 with over 5 hours of special features. If you're looking to fill out your Hunger Games collection, The Hunger Games Complete 4-Film Collection, which contains all 4 movies, special features, a bunch of never-before-seen deleted scenes and more, will be available on Blu-ray and DVD for the suggested retail price of $64.97 and $54.98, respectively.
---
---
Ad blocker interference detected!
Wikia is a free-to-use site that makes money from advertising. We have a modified experience for viewers using ad blockers

Wikia is not accessible if you've made further modifications. Remove the custom ad blocker rule(s) and the page will load as expected.