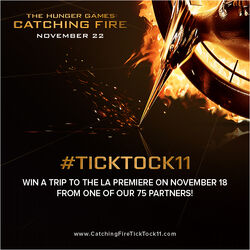 Live in the United States (or as it's referred to in The Hunger Games series, Panem)? Want to win a trip to the star-studded Los Angeles premiere of The Hunger Games: Catching Fire on November 18, 2013? Well, Lionsgate and Wikia have your chance with the #TickTock11 giveaway! The games in Catching Fire are the 75th Hunger Games/Quarter Quell. As such, Lionsgate has partnered with 75 Websites, each of which is giving away two tickets to the premiere. But as most of you already know, we at Wikia like to do things a little differently. So in addition to the pair of tickets, we're also tossing in a trip to L.A. as part of the prize package.
THE DETAILS
Of course, not just anyone can win. No, this prize is reserved for the "super fanniest" of the super fans. The individual who's made The Hunger Games Wikia their home, serving as a model "citizen" and helping to shape this into one of the best communities Wikia has to offer. (We're looking at things like how long you've been a registered user, how active you are in the community, etc.)
To that end, you can "volunteer as tribute" by filling out the form below (all fields are required) and telling us why you're the most valuable member of Wikia's Hunger Games community.
We'll select one winner (you'll get to bring a guest), who will be announced here on September 30, 2013 at 10 a.m. PST.
Tickets for The Hunger Games: Catching Fire go on sale to the public starting October 1; the movie opens November 22.
For more about The Hunger Games: Catching Fire #TickTock moments campaign leading up to the release of the film, visit The Hunger Games Explorer website.
THE RULES
Contest ends September 23, 2013. Winners will be announced on September 30, 2013 at 10:00am PST.
GRAND PRIZE
2 Movie premiere tickets to The Hunger Games: Catching Fire
Tickets will be available at Will Call on the day of the premiere and no sooner -- must have valid identification to claim your tickets.

Round-trip airfare.
Hotel accommodations.
Share The Contest!
---
---
Ad blocker interference detected!
Wikia is a free-to-use site that makes money from advertising. We have a modified experience for viewers using ad blockers

Wikia is not accessible if you've made further modifications. Remove the custom ad blocker rule(s) and the page will load as expected.