I dont really think it dose, but what am i to say. But what i do think is that if i were to cast the role i would want to give it to Madison Pettis because is really she is 12 and when i read the books that who i thought of. Tell me if Rue`s race matters and who you would cast? i would really like to know
And for all of you that are not sure what Madison Pettis looks like than here you go: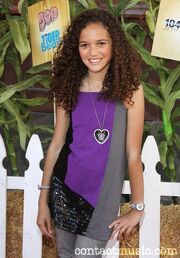 Ad blocker interference detected!
Wikia is a free-to-use site that makes money from advertising. We have a modified experience for viewers using ad blockers

Wikia is not accessible if you've made further modifications. Remove the custom ad blocker rule(s) and the page will load as expected.