Helloooo!!!!!
Despite the fact that I am in the middle of a Games, I shall write this blog anyways because my genius doesn't have an off switch. :)
SOOOOOOOOO........
The point of this game is to name a situation in or about the Hunger Games, and someone else replies to your situation with a GIF that shows how they feel abut it.
A BEAUTIFUL EXAMPLE:
iKayla: Peeta tells Ceaser he loves Katniss.
Rueisthebest: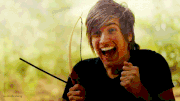 The GIF does'nt have to be about the Hunger Games, but the situation does.
You can find the GIF's online, or you can make your own at places like GIFsoup,com.
May the odds (and the overexcited Gales) be ever in your favor.
If the ninja skills don't get you, my army of weiner dogs will! iKayla :) 00:12, April 16, 2012 (UTC)
Ad blocker interference detected!
Wikia is a free-to-use site that makes money from advertising. We have a modified experience for viewers using ad blockers

Wikia is not accessible if you've made further modifications. Remove the custom ad blocker rule(s) and the page will load as expected.