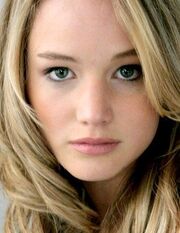 Oh mah gawd! Guys, you'll never believe what I just saw!
I JUST CAME FROM THIS ONE WEB SITE CALLED DOWN WITH THE CAPITOL.NET! THIS IS WHERE I GET ALL MY HG MOVIE INFO. I JUST FIND OUT THAT THEY MIGHT HAVE A LEAD FOR KATNISS! THEY PROBABLY ONLY NEED HER TO ACCEPT! THIS WOULD BE GOOD NEWS EXCEPT FOR THE FACT THAT THIS 20 YEAR OLD IS BLOND AND LOOKS AWFULLY PAMPERED (AT LEAST TO ME). YOUR THOUGHTS?
Ad blocker interference detected!
Wikia is a free-to-use site that makes money from advertising. We have a modified experience for viewers using ad blockers

Wikia is not accessible if you've made further modifications. Remove the custom ad blocker rule(s) and the page will load as expected.