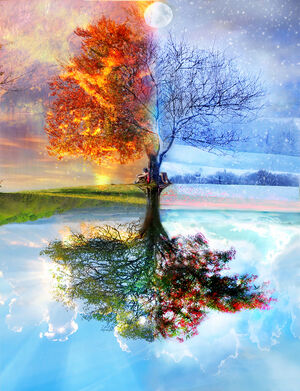 This is just a page of teenage celebrities I think would be reaped in one of Hunger Games, also the arena it would be held in
. Follow the page if you agree, if not message me your opinio.
The Tributes
The Arena
The arena picks up a theme simular to the picture of this page. The arena is a beautiful landscape, as always, yet changes season by the day. Each day gets more dangerous as the games go on, starting of with autumn. The first day, due to the bloodbath at the Cornicopia, with be somewhat peaceful. But the next day, the season will change to winter, where the tributes will have to be cautious of man-eating muttated snow wolves. Followed by muttated grizzly bears in the day after, in the day of spring. In the day of summer, all bodies of water will won't be accessed because anyone within two feet of the water will be attacked by great white sharks. The cycle will repeat until the final eight are left, then natural disasters will occur: Blizard in the winter; earthquakes in the spring; floods in the summer; and an F5 tornado in autumn. No natural disaster will happen when the games reach its final two, but the two will be rushed to each other by the land muttations, where the inevitable will happen.
Extra
Its really hard to figure who would win these games, but I would love to see comments of who people would think would win these games. Also, I don't know who's pictures I am using for this page, but all rights to the photos are reserved to them and I will change the photos if there is a problem with the use of these photos. It took some heavy duty thinking for this Hunger Games, so people who comment please don't be to brutal.
Ad blocker interference detected!
Wikia is a free-to-use site that makes money from advertising. We have a modified experience for viewers using ad blockers

Wikia is not accessible if you've made further modifications. Remove the custom ad blocker rule(s) and the page will load as expected.