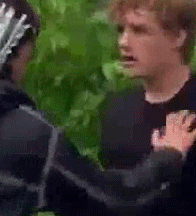 Thanks to ET, we got our hands on this cool behind the scenes footage of a special scene in The Hunger Games: Nightlock berries! Called "Hunks of The Hunger Games" the short clip introduces Katniss's two love interests Gale and Peeta.
Watch the scene below and tell us what you think!
Behind the Scenes
Ad blocker interference detected!
Wikia is a free-to-use site that makes money from advertising. We have a modified experience for viewers using ad blockers

Wikia is not accessible if you've made further modifications. Remove the custom ad blocker rule(s) and the page will load as expected.