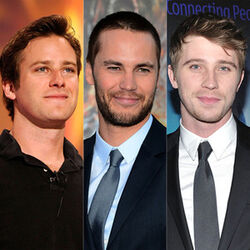 Has the coveted role of Finnick Odair already been cast? According to E Online, the casting folks of The Hunger Games is contemplating three actors already for The Hunger Games hunk.
The three lucky actors are: Armie Hammer, Taylor Kitsch and Garrett Hedlund, and Lionsgate may well announce the final choice as early as this week!
We're all waiting breathlessly to see who will play Finnick, do you have favored casting choices?
UPDATE
Our sources were inaccurate, the casting of Finnick Odair is still wide open!
---
---