Comments

3
Happy Valentine's Day from President Snow
It's Valentine's Day, THG fans! Whether you're pining after Peeta, Gale, Finnick, or someone else, we bet nothing would prepare you for a personal Valentine's Day gift from...President Coriolanus Snow!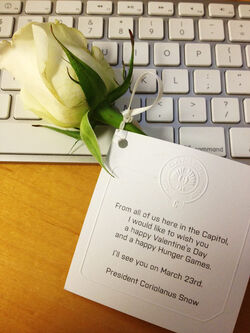 The lucky staff at EW received a surprise Valentine from President Snow yesterday in the form of his signature white rose and a beautiful card.
Is it creepy? Cool? Would you want a gift from Snow?
If you're looking for a last-minute Valentine, send your friends and loved ones a #wikigram!